I rec
e
ntly had the distinct pleasure of joining 350 fellow leaders at the Women's Entrepreneur Festival
in New York City. In its 6th year, this high energy platform for supporting female entrepreneurs was just as inspiring and uplifting as the view it offered at the top of 1 World Trade Center.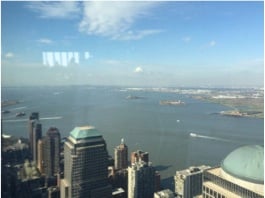 For so much of my career the focus for professional development was on the "content"- new techniques and best practices in local sustainability, solutions to climate change mitigation and adaptation challenges, funding mechanisms for energy efficiency and renewable energy projects - of the work I do. After 15 years, I have learned a lot. Now that I am a Founder and CEO, I am seeking guidance more in the realm of developing a business plan, taking products to market, building a brand, etc. Attending WeFestival provided guidance, best practices, and a network of peers to support me in this regard.
WeFestival is the brainchild of Joanne Wilson, a blogger and an angel investor, and Nancy Hechinger, a technologist and an educator, who came up with the idea over coffee with the goal of celebrating women entrepreneurs and creating more opportunities for women in tech. Each year the event has grown larger, and this year is the first they will host another event outside of New York to engage women on the West Coast.
Here are three things that stuck with me and they are all based on quotes that I heard at WeFestival.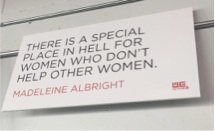 "There is a special place in hell for women who do not support other women." This quote from Madeline Albright really gets at the heart of many issues in the workplace. There is nothing more disheartening than having another woman go out of her way to put or keep you down in the workplace. I guess on some level we expect to be part of the same team. We expect that men will not support us, that does not surprise us, but when another woman does it, it feels ice cold. One of the things that impressed me so much about WeFestival was how friendly and open every woman was. Without men, we are actually nicer to each other. Though I think this group of women would be supportive of each other in any environment. In my career, I have very much tried to support other women both on my team and within the organization. To this day, I am still in touch and, in some cases, actively working with many of the women and men that I have previously worked with.
"Being an entrepreneur is not for the fearful." This quote seems obvious, but you do not realize how accurate it is until you are faced with a big decision. In no way do I consider myself a fearful person, nor do I think anyone that knows me would refer to me as such. However, there is something about taking a leap of faith- starting your own company, funding new product development, trying a new path, etc.- that can certainly awaken or maybe create this sense that you should be fearful. You will encounter an enormous amount of uncertainty in any new endeavor, so you have to be bold and ready for what comes at you. If you believe in what you are doing and have developed a strong set of goals that keep you focused, there should be no room for fear to creep in.
"Never doubt that a small group of thoughtful, committed citizens can change the world; indeed, it's the only thing that ever has." This famous quote from Margaret Mead has been a favorite of mine since I first heard it in college. As an environmental scientist who knew early on that my mission in life was to protect the planet and the species on it, this quote really resonates with me. Frankly, it comes in handy when you are trying to tackle a global issue like climate change. You cannot ever let the fact that you are just one person dissuade you from pushing forward on what needs to be done. My career has also followed the track of another related quote: "Think Globally, Act Locally." All the work I have done around climate change mitigation and adaptation has been with local governments and though I did not specifically plan for it to happen this way, the pace of action at the local level is actually significantly faster than that at the federal and international levels, allowing people to have a greater impact faster.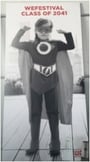 If you did not have a chance to check out WeFestival, you can find the sessions online.
The sessions and networking were worth every penny I spent to travel to NYC and then some. I just hope that someday I
too can be a resource for women entrepreneurs and at a minimum a strong role model for my daughter.