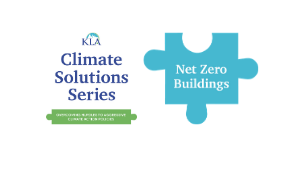 What we learned from the Net Zero buildings experts on our webinar
We kicked off the KLA Climate Solutions Series with an informative and engaging webinar discussion on how local governments can take steps toward implementing Net Zero buildings in their communities -- a critical step to achieve greenhouse gas (GHG) emissions reductions at a scale that truly matters for climate action.
You can access the on-demand webinar, our tipsheet and webinar slides here.
Here are four things our panelists said about this high-impact climate solution that caught our attention:
1. The cost to get there is nothing compared to what it will save us long-term.
We know the climate crisis demands action, and action costs money. It's important to keep in mind, however, the cost of not acting.
Steven Burke mentioned the importance of this perspective when thinking about the initial cost of constructing Net Zero buildings:
"If the premium to save our future is a 3% added cost on a building, we should be able to manage that."