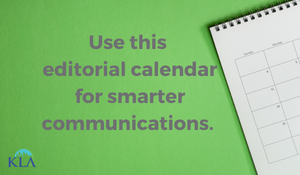 Use this template to be more targeted, timely and effective with your climate and sustainability communications
Think about what makes the news headlines or gains social media traction. Some of it -- a sports upset, political spat or Hollywood faux pas (no one predicted that Will Smith slap) -- you can't plan for. But a lot of it you can.
The Super Bowl and its buzz worthy commercials hit every winter. Bill Murray memes will pop up on Groundhog Day, just as you'll see Yoda and Darth Vader everywhere on May the Fourth/May the Force day. Earth Day stretches across April. Every May is Bike Month. Summer heat waves happen. The holidays will consume us all in November and December.
The only question is: are you ready to leverage those opportunities for your climate and sustainability goals?