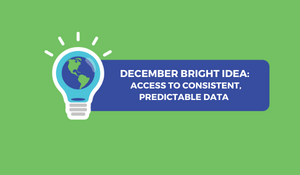 KLA clients lead the way with innovative, scalable, replicable climate solutions at the local level.
Each month in 2022 we will shine a spotlight on their bright ideas.
Guest post by Mike Steinhoff, KLA's Director of Climate Analysis

Local governments need access to consistent, high-quality data to develop and track progress on implementation of climate action plans. Massachusetts and other states are working to level the data playing field for more ambitious targets and results. In Massachusetts this has historically happened in fits and starts, but as they formalize more of these processes, we hope to see more agencies providing actionable information from the start.

We have a strong focus at KLA on the importance of data in the battle against climate change. But not all data is created equal. And the good stuff isn't always easy to find or possible to access.

Ask any local government sustainability or climate staff if they've ever been stymied or frustrated by their search for data like "How many EVs are in my community?" or "How much energy did we use this year compared to last?", and you'll be flooded with examples. And on the other end, utilities and the like are hit with one-off requests at random from each city, town, county. Thus, they provide one-off responses with no guarantee of consistency.

States cannot meet ambitious greenhouse gas emissions reductions goals without local governments. It stands to reason that you don't want them all trying to innovate independently or recreate the wheel. They would be wise to follow the lead of Massachusetts which has given its local governments and therefore itself a leg up in this arena by providing the funding, data and tools to align and achieve goals.