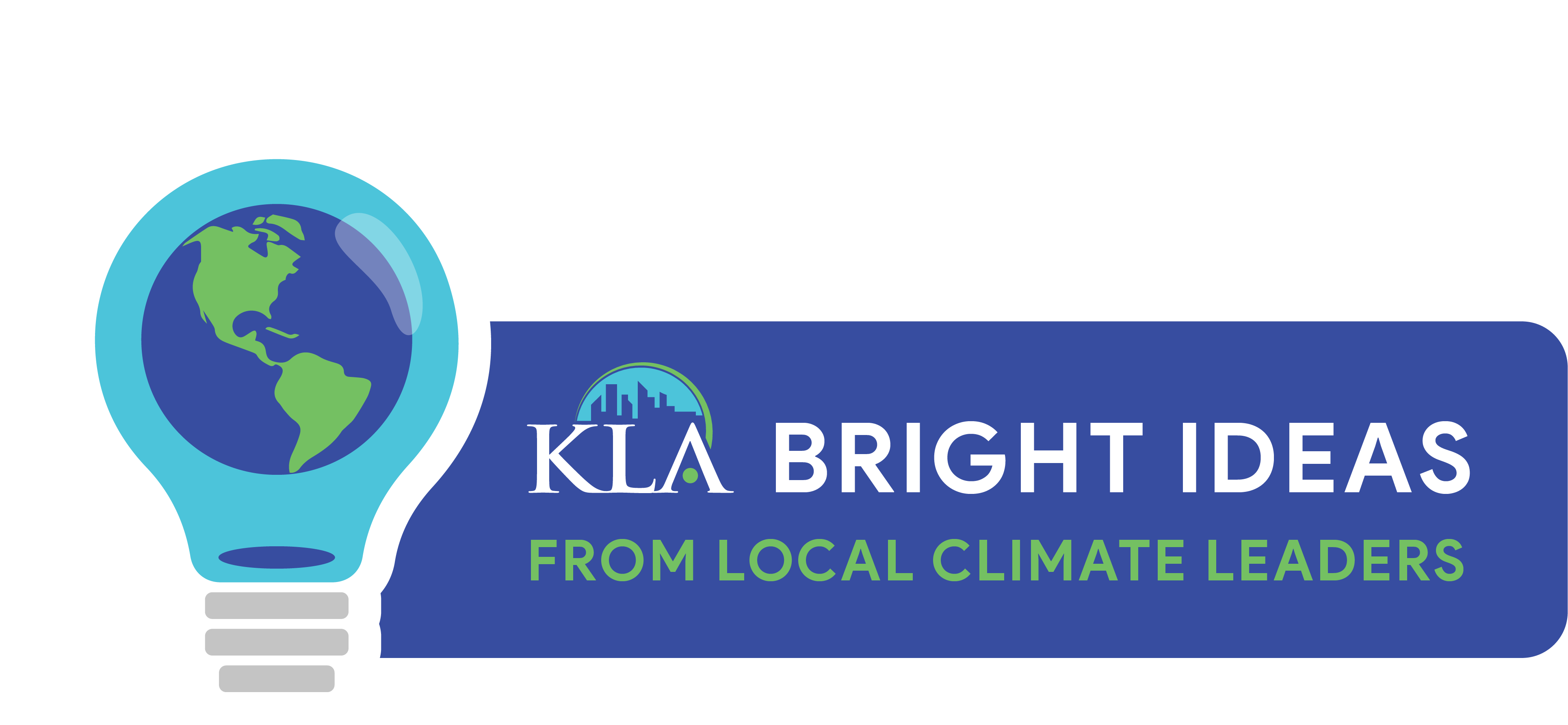 KLA clients lead the way with innovative, scalable, replicable climate solutions at the local level.
Each month in 2022 we will shine a spotlight on their bright ideas.

Heat pump coaches in Concord, MA, help meet a climate goal:
getting homeowners to transition to efficient heating and cooling
"Why You (and the Planet) Really Need a Heat Pump." We saw this headline the other day and our minds went to KLA client Concord, MA.

Like many communities sifting through data to identify the biggest-bang-for-your-buck ways to slash greenhouse gas emissions, getting more residents to switch to heat pumps emerged for Concord as a top strategy. But the process of transitioning a heating or cooling system to a new fuel source – plus choosing the right equipment and installer -- can be daunting for people. To begin with, don't assume that heat pump technology and the benefits are common knowledge. In fact, a recent survey done by the Massachusetts Clean Energy Center (MassCEC) found that 50% of Massachusetts residents do not know what heat pumps are.

So it wasn't surprising that in Concord the uptake of heat pumps to meet climate action goals was happening too slow and needed a nudge.

That nudge comes in the form of a coach.

The basics:
The Concord Municipal Light Plant (CMLP) received grant funding through a Demonstration of Energy & Efficiency Developments (DEED) grant from the American Public Power Association to pilot a Heat Pump Coaching Program (administered by Adobe Energy Management) to help Concord residents "navigate the jargon, acronyms, and complexity of the process." The idea is to pair coaching support with CMLP and MassSave rebates to increase heat pump installations and reduce emissions.(Read more about it here)
A coach provides information about how heat pumps work to both heat and cool, as well as Concord's program to facilitate finding installers and having them meet industry standards. They also help by describing options to meet homeowner's situations.
Coaches of this nature are not new. Countless local governments, nonprofits, companies and utilities employ a coaching model for solar, energy efficiency, heat pumps and more. It's a classic answer to the knowledge barrier. (Here are two examples from Bedford, NY, and NY for Clean Power)

In fact, Concord already utilized volunteer coaches for heat pumps. Yet the less formal nature of that effort meant services depended on volunteers' varying time and expertise, and there was no structure to share best practices and document the work. This new, more standardized, approach optimizes the experience for residents and coaches, gives the coaches more tools and trainings, and incorporates feedback for continuous improvements. The coaches are paid employees of CMLP's partner, Abode Energy Management, and they all happen to be Concord residents! Concord residents meet with coaches as many times as they like for free.

So for residents who are confused or just curious, there is always a Heat Pump Coach are eager to help when the online form comes in or the phone rings.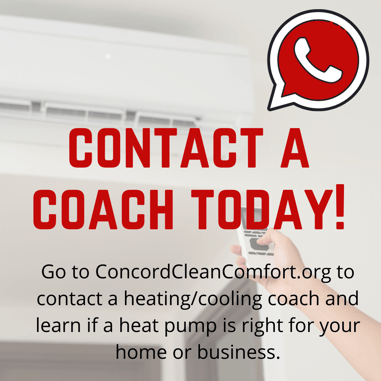 How did they make the phone ring?

The Concord Clean Comfort Program uses a combination of tactics, including:
Webinars and in-person presentations at group meetings and community events
Online presence via newsletters, posts on neighborhood listservs & NextDoor, emails, social media, and testimonials & case studies on the Town's website
Traditional outreach to homeowners including electric bill inserts, newspaper ads, bookmarks, and flyers in the new resident welcome packet
Communicate and engage with local architects and real estate agents

2021 Accomplishments:
200: coaching requests received, averaging more than one request every two days
40% of those coached claim to be pursuing heat pumps for heating and cooling
176: coaching engagements
3 months: average time from client meeting to heat pump installation

What's on the horizon:
Abode reports that across the territories they serve, 30% of consultations result in heat pump installations – and CMLP wants Concord to exceed that. In addition to continuing last year's successful formula, they are experimenting with a variety of follow up measures to bump up the number of coaching appointments and the number of clients who install heat pumps.

Why it's important:
As the Wired article notes, "The humble heat pump is exploding in popularity…Last year, 4 million heat pumps were installed in the US, up from 1.7 million in 2012." And as the Intergovernmental Panel on Climate Change (IPCC) rings alarm bells on the rapid action needed to avert a climate crisis, more cities, towns and counties looking for ways to cut their emissions will end up with heat pumps as a key strategy. Replicating Concord's Heat Pump Coaching Program might be the ticket to success.


"The Concord Clean Comfort model offers one-on-one guidance to decarbonization."
February 2022:

San Antonio Employee Climate Training Program