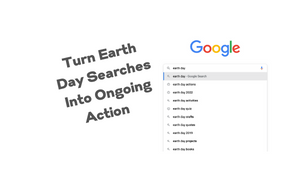 For local governments, engaging the community is key to achieving climate goals, and Earth Day is one of the best opportunities to get people to take action. That's especially true right now when the recent headlines – like USA Today's "'It's now or never': UN climate report shows globe is on 'track toward an unlivable world'"-- are driving awareness and, ideally, action.

The next few weeks are when people will be searching online for ways to "go green." It's when you have the chance to convert someone looking for a one-time litter or river clean up into a regular participant in your climate programs.
Earth Day can be a springboard for climate action in your community.

But you can't do this if people need a PhD to understand the challenges your community faces and where you're headed. Or if they have to navigate a typical local government website to find the most effective actions. Don't lose the Earth Day momentum!