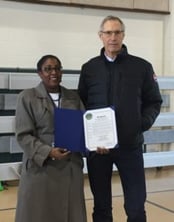 I was so happy to celebrate the start of National Public Health Week (#NPHW) with one of my awesome clients: the City of Nashua, NH. Mayor Jim Donchess and Public Health & Community Services Director, Bobbie Bagley (pictured at right) were on hand to kick off a week's worth of activities, starting with a proclamation followed by one-mile walk through downtown.

This is timely for three important reasons:
1. Nashua just became the first city in New Hampshire to be accredited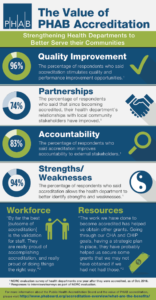 by the Public Health Accreditation Board (PHAB). The Public Health Accreditation Board is a nonprofit organization dedicated to improving and protecting the health of the public by advancing and ultimately transforming the quality and performance of state, local, tribal, and territorial public health departments. In other words, PHAB helps Public Health Departments focus on performance outcomes to evaluate progress- YES! Exactly what us sustainability professionals are doing! (sidenote- its worth checking to see how their requirements match up with STAR) In case it is not abundantly clear, here is a great infographic on the benefits of public health departments going through this process.
2. We just launched the Livable Nashua Dashboard- KLA's first live
sustainability dashboard!
Soon, all of the great data that Bobbie and her team at the Nashua Public Health and Community Services Division have collected will be added to the Livable Nashua dashboard for comprehensive community tracking. This is a great example of public health taking on a more prominent role when gauging sustainability and livability. People used to think of "public health" more in terms of infectious diseases and the like, but the air we breathe, water we drink, and food we eat are all public health issues as much as they are "environmental" or "sustainability" issues.
Mayor Donchess took to YouTube for a video launch of the Livable Nashua Dashboard that you can watch here.
3. If ever there was a time to talk about public health and the environment, it's now! Unless you've been living under a rock, healthcare continues to dominate conversations and headlines. Yet largely absent from this discourse -- at least among politicians -- is the intricate link between the quality of our health and the quality of our environment (the latter, especially with regard to climate change, has been making headlines of its own). High premiums are indeed a problem. But when we make advances in cleaner air and water and tackling climate change, Americans might have to worry less about those premiums.
I came across some incredible infographics from Climate Nexus and the American Public Health Association on the link between climate change and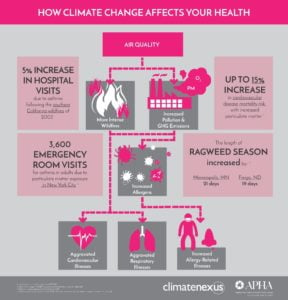 our health that you should check out -- could be useful in your communications about the issue to your communities and stakeholders. Here are some other infographics specific to National Public Health Week that would be useful, too.
Scientific American recently published a must-read article on the threat that climate change poses to public health. One quote that really stuck out for me from Jonathan Patz, Director of the Global Health Institute at the University of Wisconsin, Madison:
"When the Clean Air Act was started and since that time in 1970, the EPA has been required to do a benefit-cost analysis of the CAA. The benefit to cost is about 30-to-1 — so when we talk about reversing some of these regulations, it's to our detriment," said Patz.
For those of us who like to base decisions on cost-benefit analyses and metrics tracked over time, the value of our environmental protections and public health investments is a no-brainer.
We are thrilled that the Livable Nashua Dashboard will be a place for community members to see their city's progress on public health (and much more) and to take part in the solutions that will help Nashua thrive.