1-hour overview of Cleveland's, others' success with sustainability dashboards available for free download
A couple weeks ago we sponsored a Sustainable City Network webinar attended by more than 250 local government and sustainability professionals, "How to Leverage a Sustainability Dashboard to Drive Action." I was joined by Jenita McGowan, Chief of Sustainability for the City of Cleveland, who spoke about their experience designing and maintaining a dashboard.
I was pleased to learn that the webinar was well-received by participants:
"The seminar yesterday on the sustainability dashboard was outstanding. Usually webinars are so general they are often not worth the time. However, both women gave such in depth details of their experience with setting up their dashboards – almost every sentence had valuable info."
"This was extremely helpful since we just began scoping a sustainability dashboard for our own regional climate action plan. The visuals of the dashboards as well as the lessons learned were great!"
If you missed it, the webinar is now available for download (both the audio recording and the presentation slides) for free on the Sustainable City Network website.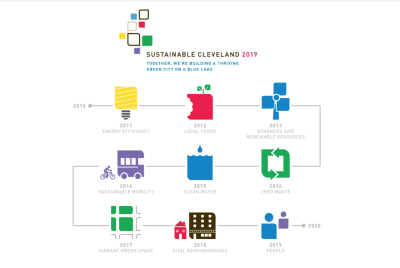 Here is a summary of what we covered:
Local communities are investing more resources in sustainability and climate efforts, spending time and money developing intricate plans that they release with tremendous fanfare. But then what? The stakes are high for these programs to show results and command ongoing investment.
With the interactive nature of today's media and the expectations of elected officials and constituents, it's not enough to simply share data on a webpage. This webinar provides an overview of the process the City of Cleveland went through to develop their dashboard and the results to date and discusses opportunities to leverage a sustainability dashboard to not only meet accountability and transparency expectations, but to take it to the next level by actually engaging community members to take action and be part of the solution.
The key takeaways from the webinar: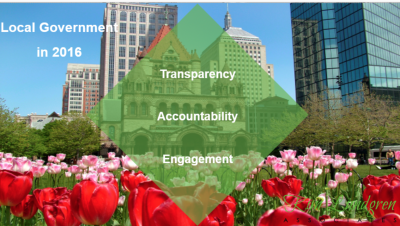 Open data. We're in the midst of a global trend toward open data, a citizen-centric approach to delivering government services where cities must have a pathway to participation and must demonstrate that they care what their residents think.
Transparency. Is dumping data on a website really "transparent"? Most people in our communities aren't data geeks. Just because you make data available doesn't mean it's actually accessible.

Accountability. Local governments must justify why resources are being spent on something. Developing a sustainability plan can cost $200K plus implementation and staffing. You have to show it's worth it in cost savings, quality of life improvements, and other metrics.
Engagement. More than a press event. You have to go beyond putting out a press release and having a media event. For most sustainability programs the goal is behavior change -- not just to inform people -- and a dashboard can be one tool to help do that.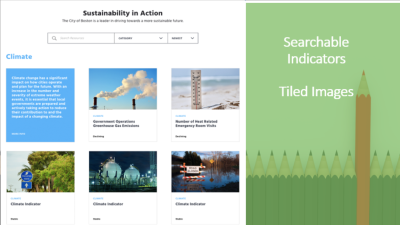 Measure what matters. Make sure you measure what's important to your community. Every community is unique. There are hundreds of data points you could measure, but a much smaller number that you should measure, especially with limited resources.
Equity. Find ways to engage people from all walks of life, especially vulnerable and underserved populations. Make actionable data available.
Internal utility. A dashboard helps you measure results, show what works, inform strategy, make data-driven decisions, and educate and inspire

So whether you're actively planning a dashboard presence, struggling to get your sustainability program off the ground, or are just curious what tools are out there, take advantage of this opportunity to learn from some of the pioneers in this space. It's easy to watch at your desk at your convenience, and it's free, so what are you waiting for?