We love it when a city pledges to "go green." We love it even more when cities back up those words with meaningful goals and plans to reach those goals. And, well, our hearts just flutter when those cities complement that plan with our Community Dashboard and a strategy for truly engaging the community in reaching those goals together.
And that's what the City of Encinitas just north of San Diego in California has done.
Last week the city officially approved a Climate Action Plan with ambitious goals. The San Diego Union-Tribune broke out some of the plans key elements in their coverage:
Establishing a Community Choice Energy program --- a nonprofit government entity tasked with procuring electric power, particularly solar and wind power, for residents and businesses;

Requiring solar, hot-water heaters in new homes;

Eliminating the use of two-stroke leaf blowers;

Starting several shuttle bus programs, particularly ones for La Costa Canyon High School and MiraCosta College students, to reduce the number of vehicles on the city's roadways;

Supporting water rate increases put forward by the city's two water district boards in an effort to reduce water use;

Completing a citywide transportation plan and improving vehicle traffic flow in town;

Transitioning all city government passenger vehicles and light trucks to zero emission vehicles by 2020 and having all of the city's heavy equipment running on renewable diesel fuel by 2030
Overall the plan calls for Encinitas to reduce its greenhouse gas emissions by a total of 13 percent by 2020, and 41 percent by 2030.
Those are a lot of goals and metrics to track. We're proud that Encinitas turned to KLA to use our Community Dashboard as the place where they will direct the community to learn about the plan, track the City's progress, and find ways they can help the City meet those goals.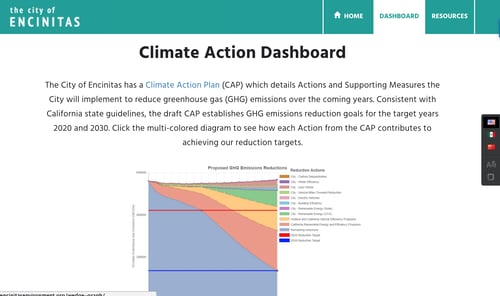 As Crystal Najera, the Climate Action Program Administrator for the City of Encinitas told us, "Adoption of the City's updated Climate Action Plan represents the culmination of a yearlong collaboration between the community, the Environmental Commission, City staff, and regional climate experts. The City's newly adopted CAP is ambitious, yet doable. I am excited to begin implementing the many initiatives that will help us combat climate change. For Encinitas residents who want to keep up with our progress and find ways to get involved, the Dashboard will be a great resource."
Check out the Encinitas Environment Dashboard.
If you'll be at the New Partners for Smart Growth conference in San Francisco February 1-3, 2018, be sure to check out Kim and Crystal's session, "Turning Your Data Into a Story" at 10am on the 3rd.