Use this template to be more targeted, timely and effective with your climate and sustainability communications
Think about what makes the news headlines or gains social media traction. Some of it -- a sports upset, political spat or Hollywood faux pas (no one predicted that Will Smith slap) -- you can't plan for. But a lot of it you can.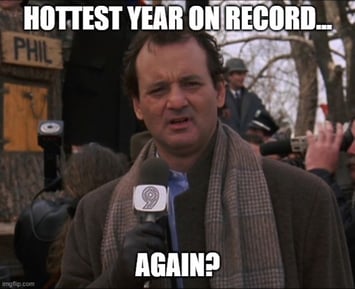 The Super Bowl and its buzz worthy commercials hit every winter. Bill Murray memes will pop up on Groundhog Day, just as you'll see Yoda and Darth Vader everywhere on May the Fourth/May the Force day. Earth Day stretches across April. Every May is Bike Month. Summer heat waves happen. The holidays will consume us all in November and December.
The only question is: are you ready to leverage those opportunities for your climate and sustainability goals?
At KLA we provide communications support to cities, towns and counties which includes mapping out an editorial calendar so that they can take advantage of opportunities and align their communications with what's happening in their community, with their climate action plan, and with external opportunities.
If you want people to be talking about climate action, a smart way is to blend climate into what people are already talking about!
Developing the calendar is an extremely useful exercise that allows you to be strategic, collaborative and proactive. So we're providing a sample calendar for you!
Check out this sample from May to see how we provide the "hook," dates, ideas, hashtags and links for the entire year (that can be used year after year).
Fill out the simple form below to download the full calendar and receive updated versions in the future.

This is part of our ongoing Communications Boot Camp series, which includes resources on everything from PowerPoint presentations to hybrid community engagement and branding to videos.