When it comes to local climate action planning work, we want "equitable" to be more than just a buzzword. As one of KLA's core values, we make it central to our approach from start to finish both for how our company operates and the products and services we deliver to our local government clients.
Why? Because a truly resilient, sustainable future means all members of the community are able to share in the prosperity and benefits it brings. To us, equity is non-negotiable.
In this post, we're breaking down the value of equity in our line of work and how KLA centers it in our climate action planning.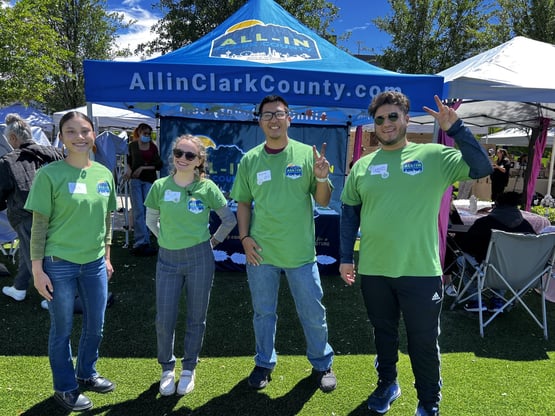 Four of our Climate Ambassadors on the Clark County engagement team.
The case for making equity central to your planning
Bringing equity into planning and community engagement involves the intentional development and use of systems and processes that engage traditionally marginalized members of your community. It begins with evaluating who is typically present at public meetings and engagement activities and who is absent.

Because some groups have historically been underrepresented, making sure their voices are heard requires a focused effort to overcome barriers to engagement -- including strategies tailored to the unique challenges faced by each of these groups and the strengths they have to offer.

One of the first steps we take in a climate action planning process is getting to know groups on the ground. We make every effort to partner with community-based organizations who can reach and represent the voices you need to hear. And we do that even before we win a contract -- they are true partners in the work. Too often consultants and communities develop plans and goals and then ask community groups to help with implementation. You need them at the table from the start so that their knowledge, perspectives and ideas are reflected in both the development process and the plan itself.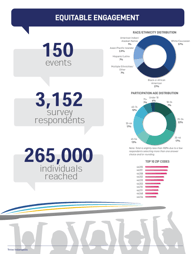 We solidified this approach back in 2018 when we sought out a partner for the development of Indianapolis' sustainability and resilience plan (what became Thrive Indianapolis). We specifically looked for a partner that represented and worked closely with marginalized communities and not necessarily on climate or environmental issues. We did this through researching organizations' mission, priorities, and key audiences. In Indy, we connected with Imhotep Adisa at The Kheprw Institute. What started as an after-school enrichment program, Kheprw now runs programs on youth leadership and entrepreneurship with an intergenerational approach. They were critical players in our equitable engagement approach to Thrive (see the "Equitable Engagement" image here, pulled from the final plan) and in helping the KLA Team continue to grow our understanding on how to truly create an equitable space to hear all voices.

Local governments can strengthen relationships and restore or build trust by actively creating spaces that are accessible, inviting in all voices and perspectives, and truly incorporating them into plans and programs that serve local interests. Ultimately, going the extra mile to bring these voices to the table -- and really, bringing the table to them -- allows planners and municipal officials to make their plan a reality that truly works for all members of their community AND ensures beneficial future collaboration in the long term.

To Recap:
Why is equity important in planning and engagement?
Hear and incorporate diverse perspectives into decision making

Ensure programs benefit all community members

Restore, maintain, or build trust

Establish or enhance two-way communication



KLA's Climate Ambassador Program
The Ambassador program (also known as "Street Teams" or an "Engagement Team") is one of KLA's signature community engagement tools. We work with community-based organizations that represent traditionally marginalized groups to identify people within that group to work with us to engage the broader community. The KLA Team then trains them on climate science, communications, and engagement best practices — and of course, we always pay them a living wage. Having an on-the-ground team of people who know the community and its needs is vital to engaging as many residents as possible.

KLA has successfully implemented this model in many of our client communities, including Beverly and Salem, MA (Resilient Together); Cary, NC; Clark County, NV (All-In); Indianapolis, IN (Thrive); and Portland and South Portland, ME (One Climate Future).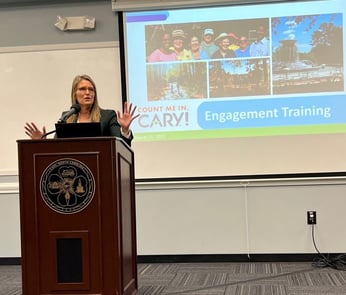 Danna Widmar, Assistant Town Manager of Cary, giving a presentation at the County Advisory Group meeting. March 2023.
How a Climate Ambassadors Program Can Help You Overcome Equity Roadblocks
Is language a barrier with some members of your community? Utilize high quality translation for all materials and events and work with partners who serve those groups and speak their languages.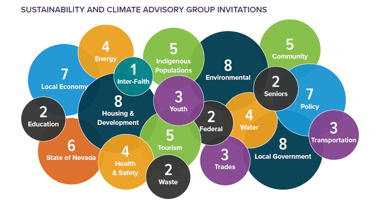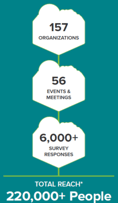 Images shown capture the robust and equitable engagement process at the core of All-In Clark County.
Are there community-based organizations with strong roots serving your priority audiences? Don't just engage them in a passive way; involve them in your stakeholder groups or even as part of a paid consultant team if you're using one.

Struggle to get people to attend events at City Hall? You're not alone. People don't have the time – or often transportation or childcare – to come to you. But you can't just rely on online engagement as that can create challenges for people who don't have access to computers, the internet or basic technology. And keep in mind a "climate" event you host will likely attract usual suspects. Consider a hybrid option where you provide virtual and online options as well as you – or your ambassadors -- going out into the community to meet people on their turf. Find them in their neighborhoods and at the events they care about.

Can't be everywhere? Maybe you're a team of one or even five in your department. You can't attend all the community events and, even if you could, you might not be the best representative. But with a team of ambassadors, you can elevate the quantity and quality of your engagement.

Walking the Talk
Given that equity is one of KLA's core values, we're committed to reflecting that in house as well. This summer we are piloting a new diversity focused summer internship program with the specific goal of bringing more young g professionals from BIPOC communities into the local climate action space. Stay Tuned for More Information on this Program in April!
Now that you've seen the importance of centering equity in planning and engagement work, are you thinking of making some changes to your processes? Excellent! KLA has tons of resources to share to help local governments like yours embrace a more equitable approach to your climate and community planning.
More Resources
How to Get Consultants to Deliver Equitable Engagement, Starting with your RFP
New Resource! 4 Steps to Add Street Teams to Your Equity + Community Engagement Efforts
Where, How and Why Equity is at the Core of Climate Resilience Planning
Equitable Engagement: Takeaways from Our Webinar
Racial Equity: Resilient Cities at the Forefront
Planning for Equity Policy Guide
Guide to Equitable, Community-Driven Climate Preparedness Planning