KLA's Summer Intern takes a look at our latest resource, a 4-step guidance document on adding "street teams" to your community engagement strategies.
By: Claire McCoy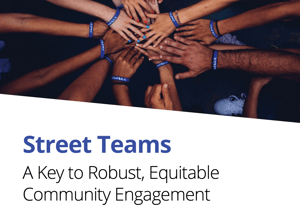 We know that one of the most effective ways to effectively engage your community during a planning or similar process is to get out in the community. To be present at community events. To convene small get-togethers. To show up at the places where people live, work, play and commute.
But for busy local government staff, that can be a time and resource intensive exercise. And you might not be in the best position to get honest feedback.
That's why a key ingredient for robust, equitable engagement is street teams.
Given the questions about and interest in street teams on our recent Equitable Engagement webinar, we pulled together a resource on the topic. It includes:
a detailed 4-step Recruit-Train-Coordinate-Evaluate process
best practices for getting your municipality's first street team up and running
pro tips
resources like job descriptions and contracts
What are street teams?
Street teams are groups of paid community members trained and equipped with the resources to engage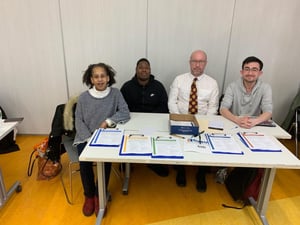 their communities and gather input for local government planning processes. Street team members attend local events and activities to spark conversations on climate change, reaching diverse populations where they already congregate.
How do street teams fit into equitable engagement?
Street teams have the unique capacity to leverage existing social networks and relationships of trust between locals. They bring community members into direct conversation with one another about issues that matter to them. This type of peer-to-peer engagement builds local capacity to continue networking and problem-solving together even after the official planning process comes to an end. Street teams work best when they include members of the target audiences they are intended to reach.
Tales from a street teamer
As an intern with Northampton, MA, I got first-hand experience at being a street team member, including holding a focus group for local high schoolers to share their concerns and ideas about climate change in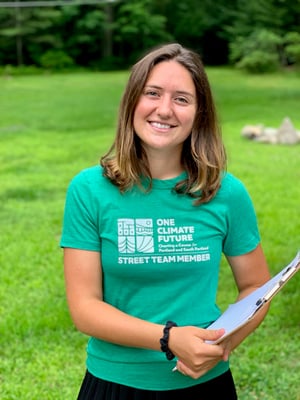 their community. The students were shy at first, showing more interest in the snacks I'd provided than the task of envisioning their city's future. But with a little creativity, by the end of the evening we had not only emptied the snacks but filled a whole whiteboard with their ideas for a more resilient and inclusive Northampton.
On another street team adventure, I found myself in the lobby of the local food bank. As folks waited for their turn to be called, I started conversations about transportation, access to fresh food, and other sustainability issues that crop up in our daily lives. Those who were interested completed a digital survey about how the Northampton's Climate Resilience & Regeneration Plan could better meet their needs and incorporate their hopes for the city. While some folks clearly - and understandably - wanted to simply get on with their evenings, others showed genuine interest. A few even wanted to get more involved in the planning process, and it was a rewarding moment to spot the familiar face of one soft-spoken woman I'd chatted with at the food bank attending the next public planning meeting hosted by the City.
Street teams make a difference!