It's finally Earth Month, and in 2023, the opportunity for change is bigger than ever. With growing public awareness and concern about climate change (which peak around Earth Day!), local governments have a unique opportunity to catalyze action and drive change in their communities. However, in order to effectively communicate about the urgency and importance of taking action, it's crucial to craft climate messages and stories that inspire your audience.
Building quality climate communications means answering critical questions: Where does the public stand on climate action? What kind of content encourages interest, concern, and action? And when it comes to talking about climate, how do we pick the right words?
With research surrounding climate awareness and action quickly evolving in recent years, it can be difficult to sort through the noise and find the most current and relevant answers. So this Earth Month, we're boiling down five basic concepts you should understand to harness heightened public interest and inspire action in your community.
1. People are concerned about climate change – but it's not always what they're focused on.
Concern about climate change is officially popular opinion in the US: a recent EcoAmerica study found that the vast majority of Americans (72%) report being concerned about climate change. If that number surprises you, you're not alone. The same report found that even with this high level of concern, far fewer Americans (52%) believe that others around them are concerned about the climate crisis.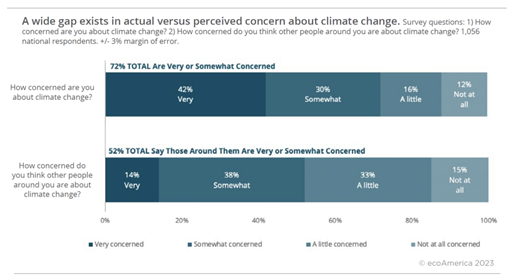 Across the country, popular support exists across the political spectrum for policies that promote renewable energy, energy efficiency in residential buildings, and tax rebates for appliances, electric vehicles, and renewable energy. For now, stronger legislation like a complete energy transition or 100% electrification has less bipartisan support (hello, gas stove debate!). But excitement and interest in sustainable solutions is strong.
The main roadblock to creating momentum for climate action? While climate concern may be rising, there's still a lot else going on. Check out top Google searches for 2022, and while you might find terms like "Wordle" or "Queen Elizabeth," you won't find a history of folks looking up "climate change." So while the concern may exist, there's work to do in sustaining attention to climate action.
2. The more people see, feel, and hear, the more concerned they become.
So how do we bring climate to the front of people's mind? It turns out, simply learning more about climate change (and experiencing its impacts) increases concern. Nearly half of Americans report that learning about the climate crisis, noticing changing seasonal weather patterns, and experiencing climate-related events greatly impacted their climate change concern.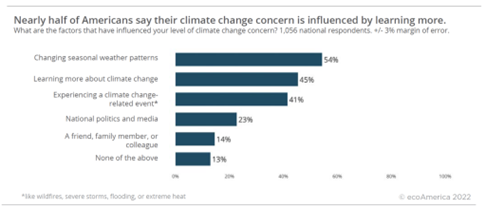 If you're looking for an example of how weather patterns and climate events impact people's awareness of climate change, look no further than the early onset spring weather patterns in the United States this year. Noticing warmer weather, increased seasonal allergies, and early spring blooms raises eyebrows and provides an opportunity to bring climate change to the front of people's minds.
Climate change is no longer just an abstract concept or concern about polar bears in the public mind: it's an active event that impacts lives every day. Bringing climate literacy — a community's understanding of its impact on the climate, as well as understanding of the impact of climate on it— to the forefront of your climate communications strategy can ensure that these connections can be made, and that climate knowledge and inclination towards action increase in your community.
3. Climate concern is on the rise – but that doesn't automatically equate to action.
A 2023 Yale study found that while many registered voters reported being "willing" to take actions to reduce global warming, very few had actually engaged in action in the past year. There's a serious gap between knowledge and action in the climate sphere. For example, 49% of registered voters said they would sign a petition about global warming if a person they like and respect asked them to, although only 16% reported having signed such a petition in the past year.
So how do we turn concern into action? One way is to make the action easier to find. About 4 in 10 Americans don't know what their local community is doing about climate change – and without that information, they can't act. Keeping people informed on local initiatives and ways to get involved is a key strategy to engaging action and securing solutions for your community.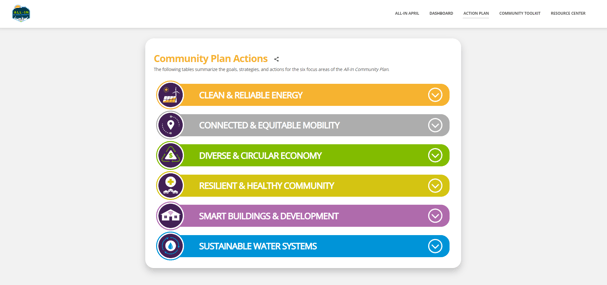 Clark County, NV's Community Plan Action table in their Community Dashboard
Communities who utilize a Community Dashboard (like this one in Clark County, NV or this one in Concord, MA) have an online platform where community members can learn about what their local government is doing to fight climate change, and what they can do to join the cause. Even without a Dashboard, it's important to make sure your website stays updated and includes clear action items for community members (think rebates, incentives, programs, and workshops!). You can also aim to send out a monthly newsletter and regularly post on social media to inform constituents about current events, initiatives, and opportunities relating to sustainability. We've got more tips on that here.
4. Words are important. Storytelling and delivery are critical.
Climate change is a scientific process. But human brains are hard-wired for stories – not facts and figures. To engage your community, you need to both share the urgency of action, but also show where action is working. Bring in personal stories of how climate action makes life easier, neighborhoods cleaner, and bills lower, and empower your community to continue making those differences. In Devens, MA, sustainable business spotlights give small business owners the chance to promote their green practices and help community members to make greener decisions while shopping. Storytelling can be a serious asset to climate communicating – so much so that cities like Denver, CO fill positions like "Chief Storyteller" to focus on finding and highlighting great community stories.

Yes, there's lots of complexity to climate change. But keeping climate communications simple and accessible is most effective. At every step of the way, make sure your stories are people-powered and find the right words to get your point across. This way, audiences aren't bogged down by doom-and-gloom information or turned off by wonky terms but are instead and are inspired to take part in a brighter future.
5. Listen and learn. Know your audience.
At the end of the day, every community is different – so no climate communications plan should be exactly the same. Focus on connecting with your community's values and priorities, and do the work to make sure you know where they are in understanding climate change and climate action. When talking about extreme weather and changing climate, apply local phenomenon to fully contextualize information, and quickly weave in effective ways to take action. Take time to learn about what words and information resonate with your community, and focus on those areas in your messaging. Whether it's a big community event for Earth Day, a small pop up event at the library, or your regular email communications/newsletter, find a way to ASK questions. The answers might surprise you, or give you a better handle on the language that people are using.
After all, communications is a two-way street. So this Earth Month, while you focus on the importance of teaching about climate change -- impacts, and solutions -- there's always learning to do along the way.
More Resources: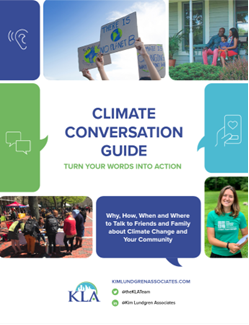 KLA Climate Conversation Guide
KLA Climate and Sustainability Editorial Calendar 2023
Yale Climate Communications - Climate Change in the American Mind
EcoAmerica - American Climate Perspectives Survey 2023
Scientific American - The Right Words are Crucial to Solving Climate Change