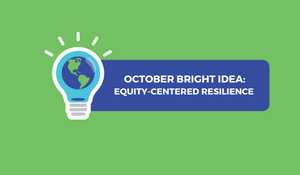 KLA clients lead the way with innovative, scalable, replicable climate solutions at the local level.
Each month in 2022 we will shine a spotlight on their bright ideas.
At KLA we're gearing up for the National Adaptation Forum (NAF) in Baltimore at the end of the month, so we're using our October Bright Ideas feature – a spot where we normally select a single KLA client project to highlight – to showcase our equity-centered approach to climate resilience work with multiple communities.

Cities, towns and counties seek KLA's support on all aspects of climate work from mitigation to adaptation, resilience to sustainability. And while there are important distinctions among those, we are quick to note that the climate crisis is here now and requires urgent action. We simply don't have the luxury of time, so our planning processes incorporate all aspects of addressing climate change. Whether you're pursuing an electric vehicle fleet to reduce emissions or mapping urban heat islands to better respond to increased heat waves, you're taking steps to foster a more resilient and sustainable community that can thrive in the short and long term.