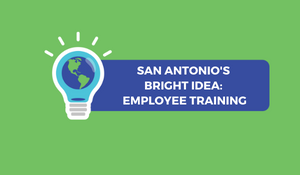 KLA clients lead the way with innovative, scalable, replicable climate solutions at the local level.
Each month in 2022 we will shine a spotlight on their bright ideas.
A key but often overlooked strategy for local climate action plans is a training program for city/town/county employees to raise awareness of climate challenges and solutions among an important audience.
That wasn't lost on KLA client San Antonio, which included "educate and empower all residents with knowledge to address climate change in the community and at the workplace" as a strategy in their Climate Action and Adaptation Plan. And they've already made good on that promise through a robust and ongoing employee training program.
For a city that employs 13,000 people, leading by example can make a big dent.