"For decades, as the global warming created by human emissions caused land ice to melt and ocean water to expand, scientists warned that the accelerating rise of the sea would eventually imperil the United States' coastline.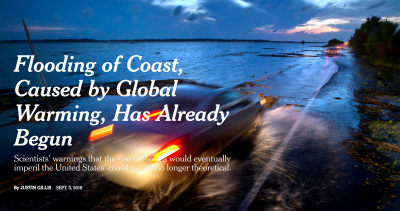 Now, those warnings are no longer theoretical: The inundation of the coast has begun. The sea has crept up to the point that a high tide and a brisk wind are all it takes to send water pouring into streets and homes."
The inundation of the coast has begun.
Those words -- from the New York Times' September 3 comprehensive, front-page article "Flooding of Coast, Caused by Global Warming, Has Already Begun" -- struck me as I packed up for this week's California Adaptation Forum and finalized plans for the Southeast Florida Regional Climate Leadership Summit early next month.
The recent news articles re: the current and future impacts of our changing climate are too many to list here with flooding in Baltimore, Houston and Louisiana just a few of the headline grabbing examples.
Indeed, climate "resilience" (a.k.a. adaptation) is a hot (pun intended) topic these days. And it's why we choose to focus on it for our first-ever podcast.
We're launching a new podcast series called SAS Talk with Kim Lundgren, "SAS" for Sustainability Action Series. And our first guest is KLA associate Missy Stults, a doctoral candidate in U-M's Urban and Regional Planning Program and School of Natural Resources and Environment. Missy and a colleague were in the news themselves this past spring for their groundbreaking research on local climate adaptation plans.
You can read more about Missy's research here, but we encourage you to take a few minutes to listen to Missy talk with me a bit more in-depth about her research and the state of climate resilience and adaptation planning at the local level.
Listen to the climate adaptation planning podcast now.
We're still hammering out the format and some technical details for the SAS Talk podcast series, so stay tuned for more intriguing topics and guest speakers -- and if you've got a suggestion for us, email kim@kimlundgrenassociates.com.