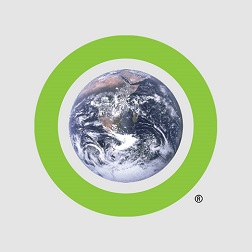 Last month, I had the privilege to join more than 1,300 other inspired and inspiring people from 30different countries at former Vice President Al Gore's Climate Reality Leadership Corps training in Pittsburgh, PA. Three days of in-depth training on climate science, policy, communication, and solutions from climate scientists, state and local leaders, NGO and business experts, and the man himself: Al Gore.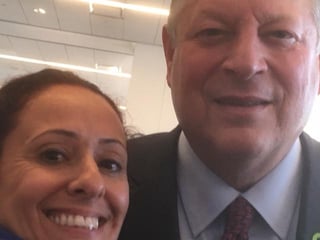 Mr. Gore impressed me by being present- and i mean ACTIVELY present all day every day of the training. He gave us the full two-hour presentation that you can see snippets of in an Inconvenient Sequel as well as a 10-minute version and was a key moderator on a number of panels. His actions clearly demonstrated his true commitment to fighting climate change.
Given the work that I have been doing for the last 16 years, I was fully aware that this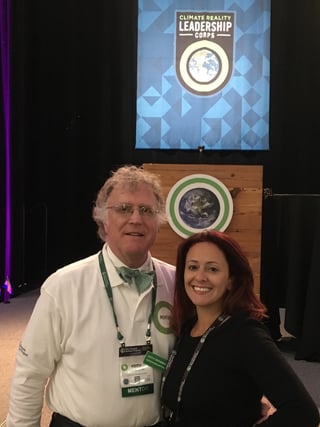 training existed. But I honestly did not think it was for me or people that did this for work every day. I thought it was to teach others how to talk about climate change. It was not until I interviewed my good friend Keith Bergman on my SAS Talk with Kim podcast this summer that I realized there was so much more to this training. After personally experiencing it myself, I am very pleased to conclude that people like us who have been happily employed in this space for over a decade can still get value from the Climate Reality Leadership training. You CAN teach an old dog new tricks, and I encourage you to apply for the next training.
Pittsburgh was a perfect setting for this training as well. President Trump put the spotlight on Pittsburgh earlier this year when he said his reason for pulling the US out of the Paris Climate Agreement was because he represents the citizens of "Pittsburgh, not Paris." Pittsburgh Mayor Peduto, wasted no time in responding with:"Pittsburgh stands with the world and will follow Paris agreement. As the mayor of Pittsburgh, I can assure you that we will follow the guidelines of the Paris agreement for our people, our economy and future."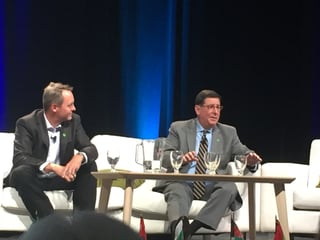 Mayor Peduto (follow him on Twitter @billpeduto) and his staff were present for most of the training (stay tuned for more on this in an upcoming SASTalk with Kim podcast with Grant Ervin, Pittsburgh's Chief Resilience Officer), and the Mayor shared the challenging history of the city and its transformation from one that embraced fossil fuels to one that focuses on healthier economic growth activities, like renewable energy. In fact, Mayor Peduto has pledged that Pittsburgh will run on 100% renewable energy by 2035. This will not be easy, given that there is still so much fossil fuel related activity in the region, but the Mayor, city staff and community leaders are committed which -- as we all know -- is the first, most important step.
Training Highlights
All walks of life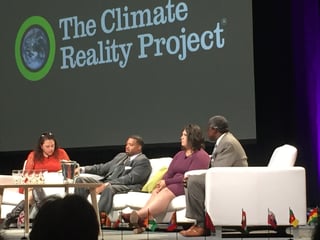 The people that attended this training were so excited to learn more and to become stronger advocates for this cause. While there were 30 different countries represented, there was a very large Pennsylvania contingent.
I was particularly impressed with Veronica Coptis of the Center for Coalfield Justice there in Pennsylvania who talked about the transition for coal country -- worth a follow @CoalfldJustice. Pittburgh native Larry Schweiger, President at PennFuture and previously head of the National Wildlife Federation (another one to follow @LJSchweiger) spoke about natural gas fracking and had an interesting local and national perspective.
Everyone had such different backgrounds and general interests. The ages ranged from high school students all the way to great grandparents. It was inspiring to see people rally around such an important topic. And it was a powerful space to get different perspectives on climate change and community solutions, even just during impromptu conversations over meals or during breaks.
Not just an environmental issue
The biggest challenge with fighting climate change is that the human actions that are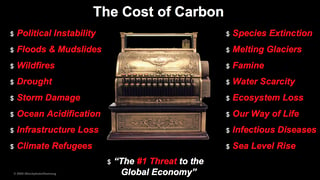 causing it are ingrained in the daily activities of millions of individuals across the world. Similarly, the impacts are just as great, from reductions in food crops to increases in communicable diseases, we are on the brink of the 6th great extinction, which could very well be the greatest consequence of climate change. On top of that the climate crisis is quickly becoming the global economy's biggest challenge.
Only three questions remain
Despite what some may suggest, there are only three questions remaining regarding the climate crisis:
1. Must We Change?
Of the 442 slides in Al Gore's stock presentation more than 300 of them are facts, graphs, or actual images of how every inch of this planet is impacted by a changing climate. From massive rain events that lead to floods, to massive droughts that lead to fires, there are photos from across the planet. I remember back in 2006, when I first started speaking to audiences about the impacts of climate change and the need to prepare, it was actually quite difficult to find a photo so that people could really see what the anticipated impacts would look like. Sadly, now we could have a new photo every day. Clearly, we must change.
2. Can We Change?
We are already are. Growth in renewable energy technology is a great example of that change. In 2000, it was projected that worldwide wind capacity would reach 30 gigawatts (GW) by 2010; yet, in 2010 it was actually seven times that amount at 200 GW. Six years later, that amount more than doubled to 486.8 GW. The same can be said for solar. The 2002 projections for solar were 1 GW by 2010. In reality we hit 17 GW in 2010, and in 2016 alone we added 78 GW of new solar photovoltaic capacity. These exponential increases in clean energy installations are due to falling prices, improved technology, and strong incentives.This has helped trigger leap frogging where developing countries skip the old technology/fuel and jump straight to the new one. We saw this happen with cell phones, and we are now seeing it happen with renewable energy. So we know we can do it.
3. Will We Change?
Over 200 countries (all involved except the US) are committed to taking the actions outlined in the Paris Climate Agreement. In addition more than 2,500 cities, states, colleges and universities, businesses and investors have also committed to the Paris goals. So we are starting to change, but more of us need to do so, which is why so many of us have been trained on how to effectively share this message in a way that sparks action in everyone.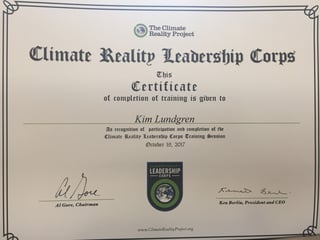 Now that I am officially a trained Climate Reality Leader, I am committed to deliver 10 activities over the next year. This can include giving presentations, writing blog posts (like this one!), advocating for climate action, attending events, and so much more.
But you don't have to wait for me or the next Climate Reality training to have an impact. In the meantime, here are a few easy things you can do!
The Climate Reality Project is starting chapters- state and regional chapters that can keep the action moving on the ground. You DO NOT have to have a trained climate reality leader to participate in your chapter. Reach out to me directly to get in touch with the chapter closest to you.
And share these opportunities with friends, colleagues -- and if you have the means via your local government or organizational communications channels, as many people in your community as possible.
If there is one thing you realize right away at the Climate Reality Project Leadership training it's that each individual can be a powerful voice and force for change.