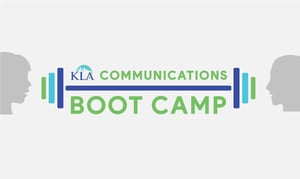 Do you have lofty community outreach and engagement goals for your sustainability, climate action or similar initiatives in 2019? Lay the groundwork for your success by first strengthening your overall communications skills. A good place to start is with the written word, which these days means websites, blog posts, emails and social media. We at Kim Lundgren Associates, Inc. (KLA) believe in the power of good writing and have experience honing the craft -- and we want to share our insights with you, starting with writing tips for websites.
This is the first part of our KLA Communications Boot Camp -- a series of blog posts, podcasts, guidebooks and trainings we will offer throughout the year focused on enhancing communications and community outreach skills. Part 2 -- Write Winning Blog Posts -- is also available now.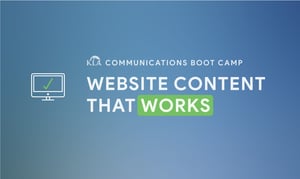 Let's start with website content as that is a common denominator. Some of us are more or less active with blogging, social media and emails -- but all local governments have websites, and your department or program likely has a section within that site or perhaps a separate site entirely. It is your primary and broadest public-facing communication tool.
Chances are you are not the one responsible for the look and feel of or even basic updates to the site. But even within the constraints of your website layout and protocols, there is a lot you can do with the content of the pages you *do* control.
This 12-step guidance for website content will get you moving in the "write" direction:
Use a storyline. Instead of dumping a bunch of statistics and links to meeting agendas/notes on a page, tease out the story you are trying to tell. Weave in relevant facts, but only in support of your overarching narrative.

Show your audience the way. Don't expect people to read an entire webpage of plain text to get to the "good stuff." Give them the content you've promised or clear direction on how to track down what they need.

Make it colorful and bright, literally and figuratively. You've got brand guidelines to follow, but within those seek out ways to grab the eye of your reader. And use descriptive language that really engages people.

Use active voice. Instead of writing "The draft goals were developed with the help of a community stakeholder group," say "A community stakeholder group drove the development of the draft goals." This reads better and tightens up the content. Here are more tips on switching from the passive to active voice.

Make it easy for people to scan with their eyes. No one reads word-for-word anymore. In fact, visitors will only read about 20% of the text on the average page.

Use subheadings. This breaks up your content into scannable chunks and helps you organize -- and readers follow -- the content.

Use numbered or bulleted lists.

Make good use of the bold and italic formatting options. While you don't want a page that's too busy, you can use these strategically to direct readers and maintain interest.

Use images. Break it up with relevant -- and whenever possible local (not stock) -- images. Here's a good example of using images on a webpage from Orlando.

For ADA compliance, Search Engine Optimization and general best practice, make sure all images have Alt Text. If you're not sure what that is, read about Alt Text here.




Link to quality content. These can be internal links -- other pages on your local government website -- or external, to local community groups, news media and other relevant resources.

Ensure your use of links is ADA compliant. Check out these ADA compliant tips.





Don't rely on downloads. Do not, we repeat, do not include a line like "Read the full report here" and expect more than a handful of people to actually download and read the report. If there is something in the report you want visitors to your website to know, pull it out of the report. Include a summary, key findings/messages or graphics from the report on a webpage.

Don't forget the fun stuff. Include fun facts, anecdotes, infographics, gifs, video (embedded on your page so they don't click away), quotes from real people (from an elected official to "person on the street") and, where relevant, do-it-yourself tips. Take a look at how KLA client Concord, MA, has the climate resilience video we produced for them front and center on their sustainability webpage.

Test your visitors. Drop in a quiz where visitors get immediate results. It's fun, interactive, educational (for your visitor to learn about your work and for you to learn about them) and gives you an opportunity to weave in a call to action. There are plenty of fee-based options that function like an online poll and some with free options like Survey Monkey, but you can also go old-school and just ask questions and provide answers farther down on the page.

Give people a way to take action. This is crucial for increasing engagement and expanding beyond the written word. If you've got a page touting your local government's Net Zero goal, don't just state the goal and your progress without giving people specific ways they can share in meeting that goal by guiding them to the programs and resources that support it.

Make it easy to find. Be sure to use Search Engine Optimization or SEO (here is Wikipedia's explanation of SEO) tools like keywords, meta description and more to ensure people find your page. If you are offering a solar incentive program, you want local people searching for "solar power for my home" to find your webpage. And get people to link to you. Whether it's other departments within your local government or partner organizations, have them include links to your webpage as appropriate.

Keep it fresh. You won't instill confidence if people go to your website looking for information on the new bike path plans they heard about on the news only to find something referencing Bike to Work Day 2013. Even if you don't have time to completely update the webpage, pop up a "Latest Update" alert at the top of the page or link to a press release or social media profile that has the latest.
You can check out the KLA website to see some of these tips in action. Please share any additional tips or examples that you think would be useful by emailing annie@kimlundgrenassociates.com. And, if you haven't done so already, download our Storytelling Guidebook which is a 4-step framework for turning your data into a compelling story.
Stay tuned for what's next with KLA Communications Boot Camp (coming soon: using video, email marketing and social media).

Keep going now with Part 2: Write Winning Blog Posts.
Make sure you're signed up for our emails to get the latest: