I might not be in Bonn this week for the United Nations Framework Convention on Climate Change (UNFCC) Conference of the Parties -- commonly known as COP 23 -- but I'm glad to see that mayors and other local government elected officials from around the globe will once again be there en masse to showcase the impact the local communities and leaders have on climate action.
I have been fortunate to see that show of force twice, once at COP10 in Buenos Aires in 2004 and again at COP15 in Copenhagen in 2009.
COP10 2004 Buenos Aires
I was in Buenos Aires back in 2014 at COP10 as a representative of the City of Medford,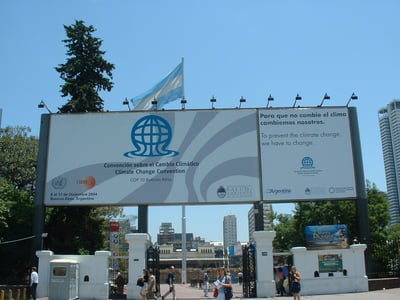 MA, on a scholarship from ICLEI- Local Governments for Sustainability. This was my first opportunity to engage in the international conversation on climate change through the United Nations Framework Convention on Climate Change. It was both overwhelming and exhilarating. The biggest takeaway for me was how important it was that I continue to move projects forward in my city of 55,000 because all of the cumulative local action DOES generate a positive global impact. Additionally, I came to appreciate how much more direct influence we can have over individual behavior at the local level that even the federal or state level certainly cannot. Fast forward 11 years, we really saw this impact take shape in Paris.
COP15 2009 Copenhagen
As COP15 approached in 2009, I had just left my job at ICLEI to start the next chapter in my career path. I knew my focus would continue to be on local climate and sustainability action, and everyone had pinned their greatest hopes on reaching an international agreement there. Indeed, I was among 45,000 who descended on Copenhagen for what was dubbed "Hopenhagen."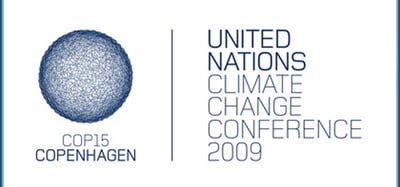 Of course, the post-mortem headlines read "Why did Copenhagen fail to deliver a climate deal?" with summaries, this one from The Guardian, like "December 2009 was supposed to be the turning of the tide, when humans collectively liberated the future from the carbon scourge. But at the United Nations climate change conference in Copenhagen collaboration ran hard against the reality of global politics. The meeting ended in disorder, despondency and an accord that tacitly admitted the world could not work in cooperation."
After waiting in line in freezing weather for hours on the last day of COP15 to get inside (thousands of us never got in), I totally agree with the "disorder" characterization. But, as with most aspects of US and international climate change policy, the shining light in Copenhagen and again today is the world's cities. The ICLEI delegation to Copenhagen hosted one of many side events focused on local action, this one a panel discussion with New York City Mayor Michael Bloomberg. Local entities were there to prove a point: even in absence of national and international action to reduce climate pollution, cities -- ground zero for climate change impacts -- weren't waiting around.
COP21 2015 Paris
And we thought Copenhagen made news headlines! Thanks in large part to US politics, the COP21 in Paris is still generating news daily. At long last, as President Obama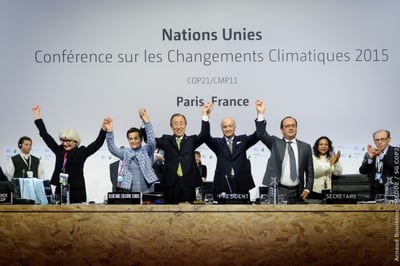 entered his final year in office and the stars aligned on the international scene, an accord now known as the Paris Climate Agreement was negotiated and adopted by consensus at COP21. It was a historic agreement, the culmination of many COPs before it, yet it immediately became a political football in the US. When President Trump held true to his word and announced his intention to withdraw the United States from the Paris Agreement, it was no surprise that among the first to denounce the move -- and to step up the fill the void -- were our mayors.
Almost immediately the #WeAreStillIn movement -- a pledge to honor the Paris commitments to addressing climate change -- was barreling forward, with cities and counties joining states, tribes, universities, and businesses.
COP23 2017 Bonn
Many of the #WeAreStillIn local leaders are heading to Bonn, Germany this week for COP23. They won't be wall flowers.
CleanTechnica reports that the "We Are Still In" coalition "will set up a pavilion at COP23, the first of its kind and sponsored entirely by non-federal US actors, including Bloomberg Philanthropies and NextGen America. The pavilion will play host to a full roster of events starting on November 9, and will provide space for exhibitions from a wide variety of US organizations. We Are Still In will also send a wide variety of delegates including state governors, mayors, and council members, as well as representatives from college campuses, businesses, and investors. Specifically, Governors of the US Climate Alliance, including Oregon Governor Kate Brown and Washington Governor Jay Inslee, are participating in the U.S. Climate Action Delegation alongside other leaders from public and private sectors." Here is more on their plans.
So, a lot happens at these international climate events. But way more happens on the ground in your community. Not heading to Bonn? Here are some ways to get involved from a distance and why it matters to you:
1. Look for news coverage like this op-ed in the Washington Post that outlines how desipte setbacks in the U.S., "the world is turning a corner on climate change." Much of the news and commentary are focusing once again on local level leadership. Share it.
2. Keep aprised of what's happening on social media by following hashtags like #WeAreStillIn #ActonClimate #COP23 and #ParisAgreement. There will likely be some good, shareable content to use.
3. Highlight what your community is doing to reduce climate pollution and help the U.S. and world meet important emissions reduction goals -- especially if you are a signatory to the Compact of Mayors or other pledge to adhere to the Paris Agreement. A majority of Americans support staying in the agreement, and by similar majorities also favor local governments doing more to address climate change. So strut your stuff!
This "Let's Talk Communities and Climate: Communication Guidance for City and County Leaders"by ecoAmerica and Path to Positive Communities is a good place to start if you're just getting started crafting a message and strategy.
Share your voice via social media (do a #TBT post noting when you made your climate pledges), a blog post, an article or opinion piece in the local newspaper or a radio or TV appearance.
4. Want more direct support or don't have a great channel where you can toot your
horn and invite community participation in reaching your goals? Take a look at our Community Dashboard (take a short video tour or schedule a free, live demo) to see how KLA can help take your leadership and community engagement to the next level.