One of our most popular presentations at conferences is a hands-on "How to Turn Your Data Into a Story" session. We talk through the science behind the power of storytelling and why it has been such a force since the days of cave paintings up through today's Facebook posts. Research abounds on how storytelling activates the brain in a way that communicates your message most effectively and can be the spark that empowers people to act.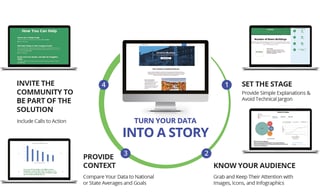 Stories are remembered up to 22 times more than facts alone. As local governments, we sit on a pile of data. We need to do more with it. We must recognize that pile as a gold mine of compelling stories.
You can use stories to:
Let your community know about the work you're doing and successes you've had

Ensure that elected officials and other key stakeholders are aware of those successes and your impact on people's lives

Engage the community in a planning process

Inspire people to take action to help meet your sustainability or other goals
We created this Guidebook -- with our storytelling framework, 4 simple steps, examples and practice exercises -- to help you turn your data into stories and those stories into action.