As we welcome in a new year and despite the terrorist event of last week, I am filled with hope and focused on positivity. If there is anything the pandemic should have taught us, it's that humans are intricately connected to each other and to all life on this planet. We must stop this idea that humans must dominate all other living species and rather embrace a reality where we live in harmony with each other and with all species on this planet.
When I recently had rare wildlife sightings in my Boston winter backyard, I was moved to put some thoughts together that I've shared in this video -- or just keep reading.
A few weeks ago, as we were wrapping up 2020, I had two amazing visitors at my home. The first was a bald eagle.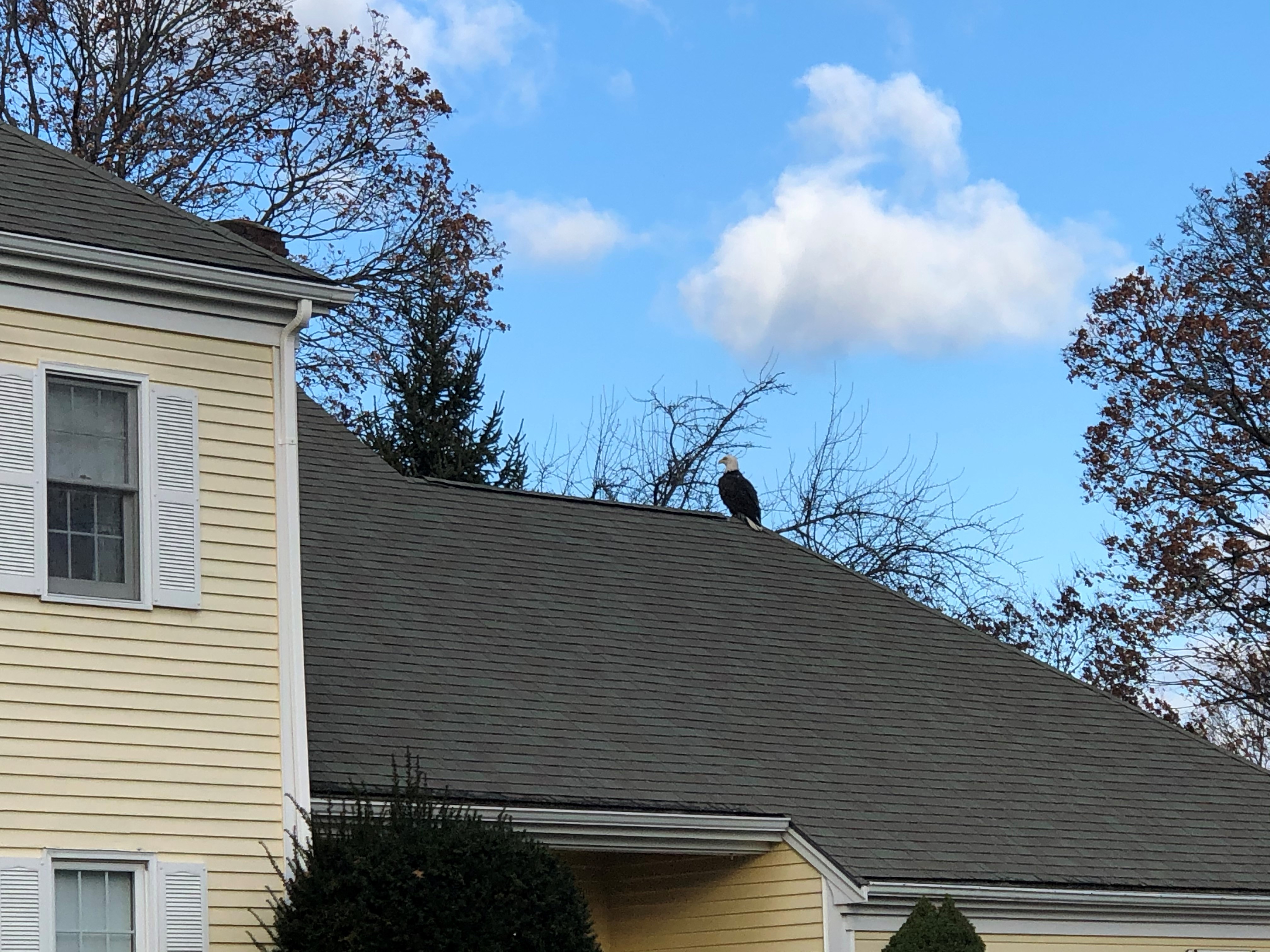 I was sitting at my desk working and all of a sudden I heard a group of crows cawing so loud I was forced to look up and out the window. I honestly could not believe my eyes. There it was a bald eagle flying right in front of my house and 4 crows harassing it. The Bald Eagle was cool and calm barely even noticing the crows. I have lived in my current home for 13 years and we have NEVER seen a bald eagle, in fact even when we spent a week in Yellowstone Park this summer, we did not spy an eagle. As I ran outside to grab a picture and a closer look, the eagle perched herself on my neighbor's roof and the crows scattered. She sat there for as long as I did and even turned her head for the camera. It was truly an amazing experience.
Four days later my husband and daughter were in the backyard and happened to come across this salamander.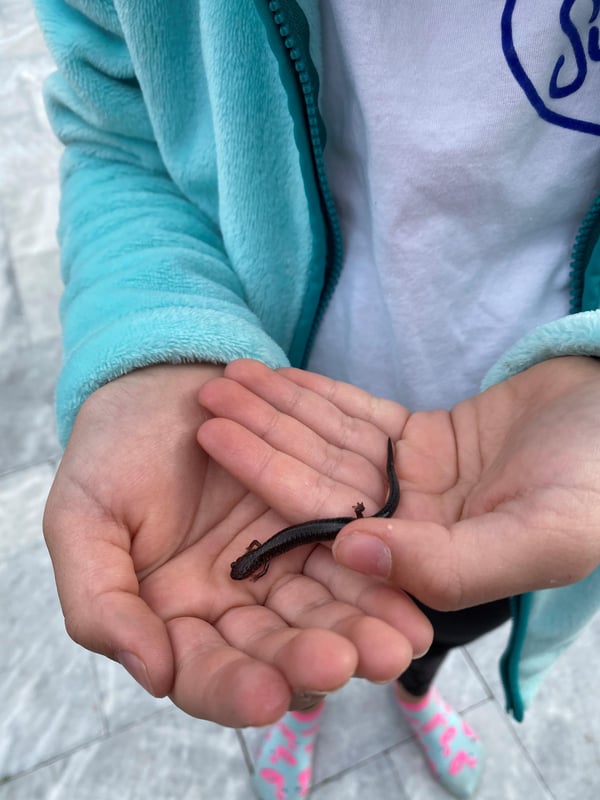 We have also never seen a salamander in our neighborhood. In fact, I only remember seeing an amphibian once- a little frog many years ago, but nothing since. The other odd fact is that I live in the Boston area, and the end of year is not usually a time that a salamander would be hibernating. This cute little guy hung out for a bit with us and then my daughter placed him under some leaves so he could prepare for winter.
Initially, these two visitors seemed like isolated incidents, but the more I thought about it, the more I realized they were a sign. A sign of the opportunity and the beauty that lies ahead if we choose the right path.
As we are well aware here in the US, the bald eagle represents freedom, courage, strength, and bravery, especially in times of oppression. But she also stands for power and beauty. And the salamander- I had to look this one up, but the salamander brings to focus the power of vision and opportunities. It symbolizes transition and enlightenment.
2020 was a tough year for everyone. Our family, friends, and neighbors have been sick or died, lost their jobs, been isolated from the ones they love. This happened because we were not prepared for a global pandemic of this magnitude. But we should have been. There had been lots of research indicating this was inevitable. Infectious disease specialists urging governments to please take this seriously and start to put measures in place. Sound familiar?
Dozens of people have made the connections between the COVID-19 pandemic and the climate crisis, I don't need to rehash it for you here. What I do want to do though is let you know that KLA has and will continue to ramp up and enhance our team, tools, and services to drive effective local action on climate change. We may think we have until 2050 to figure this all out, but we do not. We have 9 years to exponentially increase the uptake of actions that significantly reduce GHG emissions to keep us to no more than 1.5 degrees Celsius of warming.
The time for pilot studies and voluntary actions is far past.
We need local leaders to stand up and drive real change in their communities, regulation will be needed, and we MUST ensure we are actively engaging all community members in the dialog.
Ultimately this will do so much more than save the planet. When done in a comprehensive and equitable way, climate action can remove barriers to allow people of color and low income communities to prosper and improve their quality of life, it can create jobs and workforce development in a new sustainable economy, and it can ensure plant and wildlife that provide so many health and resilience benefits for humans can thrive alongside us.
This is not far-fetched. This is climate action done right, and it takes leadership. The KLA Team is here to resource local leaders with the tools needed to meet this important future.
Over the course of 2021, through our newsletter, social media, and website, we will deliver resources and best practices focused on each phase of the climate action planning process. We will also continue to build our team and skill sets to ensure our tools and services are delivering the impact that is needed to meet our ghg reduction goals and enhance community resilience. Finally, we will be providing a number of free and low cost tools and services so that every local government – no matter how small- can take action on climate change.
KLA was started as a benefits corporation, because it is our mission to deliver for the greater good, our team of GHG, resilience, communications, and engagement professionals are eager to help your community get on the fast track to a sustainable future.
Working with strong local leaders like yourselves and other key stakeholders, I am confident that we can stop the climate crisis. Let's get to it.