As more and more Americans return to offices, schools, restaurants and an overall sense of normalcy, we're all easing out of the gates as we explore the most effective ways to engage our communities in important conversations about climate change, sustainability, resilience and equity. What we're finding reflects the status of the country as a whole: some folks are ready to dive back into in-person meetings and events while others would prefer – for logistical or health reasons – that virtual options remain in place.
That means local governments with planning initiatives underway or about to launch need to craft a hybrid engagement model – and that, in turn, will require creativity, new technologies and mindsets, and some investment of time and resources.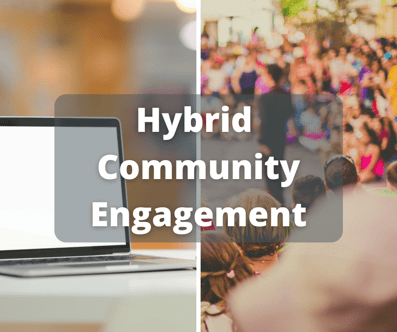 5 reasons people will be eager for in-person meetings:
Zoom fatigue. It's for real.
Reconnect with and meet neighbors.
A basic desire for human interaction, fresh air and to get out of the house.
More hands-on brainstorming and discussion opportunities.
Community events like farmers markets and concerts are up and running. For local governments seeking input you go where people are already.

5 reasons people might want to keep virtual options:
Health concerns.
Don't have to worry about parking, childcare or time in transit, plus it's easier for people with limited mobility or access to transit to participate.
Some folks – introverts and otherwise -- have discovered they just feel more comfortable in a Zoom-type setting.
Wider range of accessibility tools like closed captioning and, in some cases, translation.
Greater flexibility for people to participate even if they are traveling or to engage expert speakers who might not be local.
Taking all those considerations into account, it's clear that at least for the foreseeable future local governments will need some combination of in-person and virtual engagement options to truly involve the full spectrum of the community.
Quantity and Quality of Participation
Two bonuses of offering your community both in-person and virtual ways to take part in your climate, sustainability or similar planning processes is to increase both the quantity and quality of participate.
Quantity: Some communities have seen a surge in civic participation with virtual options.
Quality: At KLA we've been able to reach different people – beyond the usual suspects – with online engagement. For example, people that could not carve out 2-3 hours to come to a meeting at night can squeeze in a 45-minute Zoom session.
KLA has been digging into this topic for our clients, and wanted to share a few excerpts from what we've read to drive home the need for hybrid engagement strategies and tools:
"Yet, between the environmental impact of travel, the lower costs of home office and the flexibility of virtual meetings, the debate is no longer 'will hybrid capabilities be expected of council chambers in the future?' but 'how can councils future-proof their infrastructure to facilitate this?'" (This article is focused on city council meetings but has clear lessons for any local government public meetings)
Arlington (VA) "County staff are working on securing funding to expand virtual and hybrid meeting options as part of the three-year Capital Improvement Plan...The plan includes $1 million for adding or enhancing audio and visual capabilities in conference rooms. The upgrades would help broaden public participation, 'making in-person meetings accessible virtually by others unable to participate' in-person."
"'We cannot and should not go back to the days of having to be in the room to participate in government,' MacDonald told the [Massachusetts] Committee on State Administration and Regulatory Oversight. 'Remote access removes longstanding barriers to participation in policymaking for residents with disabilities, seniors, people with limited access to transportation and people with work and family commitments that otherwise prevent them from spending hours at municipal buildings.'"
Factors to Consider
What "hybrid" looks like in practice will depend on several factors that we touch on here. You might offer a handful of in-person meetings or events paired with a couple of virtual sessions of similar format. Maybe you live-stream or have a virtual component to an in-person meeting. There are likely more community events outside where you can set up a table or pop-up event or have Street Team volunteers roaming the crowd. Below is a non-comprehensive list of factors to consider:
Goals of the Meeting: Is this primarily a presentation to share information with a Q&A at the end, a panel discussion with various speakers, or an opportunity to have group discussions to provide feedback on or generate ideas? Will you need breakout rooms or a group brainstorming session? The format and intended outcome of the meeting will help determine what tool/platform might work best.
Technology: Check with your IT department to see what capabilities already exist and what elected officials and other departments might already be using or requesting. They can also alert you to rules and limitations. In a hybrid setting where you live-stream or have some people on Zoom and some in the room, you'll need to make sure you include (with a dedicated facilitator or similar) the online audience.
Accessibility: Consider what accommodations need to be made for those with visual, hearing, or other impairments. For example, for virtual events, provide materials in advance for the visually impaired; and if you have a Chat or other on-screen Q&A type function, make sure you provide the questions in advance and read aloud the answers and other audience comments that appear on screen.
Target Audience: Is this a larger community meeting with 100+ people expected or a more intimate setting? Do the participants know each other already or would introductions/icebreakers be useful.
Legal Requirements and Transparency: Check with your local counsel and state guidance on what is allowed and required regarding open meeting laws.
12 Tools and Platform Options
Regardless of where you land with your hybrid engagement strategies, we strongly recommend having a home base in the form of a website that is interactive and inviting. The site can serve as a hub for your overall project, keep people informed, share updates (in addition to a strong social media presence) and offer engagement opportunities that can be utilized before, during, and after meetings and events. Create a QR code that directs to your website that you share at in-person and virtual gatherings – we've seen these make a big comeback in COVID times.
There were already plenty of virtual or hybrid engagement tools on the market heading into the pandemic, and that number simply exploded when the world as we knew it shut down. A quick search reveals a seemingly endless list of options, but don't get overwhelmed: many will be more appropriate for schools and teaching or for mega companies, conferences, and events. Most of our local government clients will be on the hunt for solutions for smaller-scale events and outreach.
We've pulled together a list of some of the tools, apps and platforms that we think – and in some cases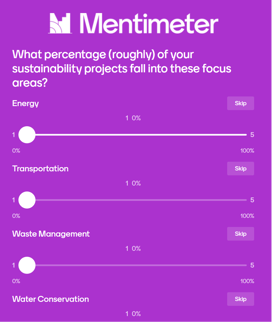 know from direct experience – could help local governments navigate these new hybrid engagement waters. Many of these are online tools that can be integrated into or serve as a supplement to any in-person outreach you have planned.
Mentimeter
Engage your in-person or virtual audience with real-time polling and results using Mentimeter's colorful, easy to use presentation software. The only equipment users need to participate is their smartphone or laptop. Use it as an alternative to static PowerPoint slides to capture the public's attention during virtual meetings or liven up the next board meeting. KLA has been utilizing Mentimeter to engage with its client communities for well over a year and has found it as a valuable tool to facilitate decision-making conversations.

TurningPoint
This app is well known to educators and students and can be used in-person or online, with a smart phone or other web-enabled device or clickers to respond to questions in real-time and self-paced. It's designed with both the audience – engaging and educating them – and organizer (local government, instructor) – collect data and feedback – in mind.
Meeting Owl Pro
The Meeting Owl Pro is a 360-degree camera, mic, and speaker designed for hybrid meetings, events and work. Sit the Owl in the middle of your conference table and it will capture a full panoramic view of the room for your digital stream. It automatically zooms and focuses on who is talking, and organizes the viewing screen accordingly. The Meeting Owl Pro gives virtual participants a more lifelike and personal experience. It is also perfect for a team meeting with stakeholders or community members who are otherwise unable to meet in person. Make sure there is a screen in the room so people in-person can see those online.
Metroquest
Need something with a little more pizazz than your usual SurveyMonkey? This interactive online survey tool and engagement platform is designed with urban and transportation planning in mind. Want to know how your participants would invest public funds? Use MetroQuest's budget allocation game. The platform also offers surveys, microlearning, and games in the form map markers, priority rankings, image ratings, and more. KLA consistently hears from our clients and communities that MetroQuest surveys are fun, educational, and easy to use.

(shown here as part of the Resilient Together planning process)

Canapii
Canapii is a one-stop-shop for all of your digital meeting and event management needs. If you're looking to boost engagement in your meetings, webinars, or conferences but don't want the hassle of using an additional app or service, Canapii is the program for you. They offer widgets for in-meeting Q&As, live polls and surveys, and even offer a "gamification" feature where attendees can earn points for interacting during the meeting! On the management side, they offer extensive meeting analytics and metrics along with scheduling and time management features like personal agendas. Lastly, if you're looking to broadcast your meeting live to your community, Canapii makes live streaming easier than ever with a custom service that streamlines the process.
MindMixer
This interactive virtual town hall platform promotes community chatter. The platform offers tools such as short polls and quizzes as a way to collect thoughts and ideas from the public, and as an avenue for community leaders – think mayors, town council members, etc. – to review and respond to feedback. What makes MindMixer additionally engaging to the public is the leaderboard and incentives features. When KLA's clients Beverly and Salem,MA, used MindMixer during its planning process, engaged citizens were entered into raffles for coffee with their mayors and for items like gift cards and small electronics.

(shown here as part of the Resilient Together planning process)

NextMeet
If simplicity and small groups is your style, Next Meet may be the program for you. Next Meet focuses on keeping the web meeting process simple and clutter-free with an easy-to-use interface and a basic, but effective class of features, including one-click meeting joining, no required registration links, and no required app download.
Google Jamboard
If you have a meeting (in-person or virtual) that would benefit from someone tracking ideas on a whiteboard or butcher block paper, Google Jamboard could be a good virtual complement. We've been on plenty of meetings that have used Google Jamboard -- and watched as many of our kids' teachers used it during virtual learning. It's a cloud-based app that functions as a virtual whiteboard that lets you collaborate in real-time. Say goodbye to hours of writing up hand written notes from 10 flip charts!
Gather
This highly customizable and quite frankly adorable program is all about creating the most interactive digital space possible to mirror the excitement and functionality of an in-person event. Attendees create their own mini avatars and walk around the "room", able to talk to others when in range of their avatars or in a shared talking zone (like in front of a poster). Gather is perfect for conferences, presentations, or meetings in which multiple one-on-ones are needed. It is also undoubtedly the most fun of all the digital tools on this list, which is definitely a bonus.
Glisser
This online event service features an "audience-first approach", prioritizing engagement and interactive tools to make your event as captivating as it can be. While Glisser tailors its service more for the corporate world, its unique program can work for anyone who seeks to host a presentation-style event with content sharing across a sleek digital venue.
Slido
Slido is a helpful application that makes audience interaction easier and more fun. Featuring customizable polls, quizzes, and Q&As, Slido is designed to get everyone in your meeting talking and working together. No download is required to run Slido and all data collected during your meeting is stored for later analysis. The best part is that Slido integrates with Microsoft Teams, Powerpoint, and Google Slides to streamline your presentation process.
Loquiz
Perhaps the most unique product on this list, Loquiz is designed to gamify digital events. Adding audience engagement in a new and exciting way, Loquiz lets you create custom games for your digital events centered around tasks or objectives for your needs. Using the Loquiz Creator tool, you can utilize pre-made game templates or create an entirely unique game for your event, all with a simple drag-and-drop format. If you're looking for a way to add pure fun to your event, Loquiz may be the best tool for you.
Note that these tools are not free, so you'll need to look at their price points or request a quote to see if it works for your budget. Some of them – like Mentimeter, MetroQuest and Mindmixer – KLA has direct experience with and others we're just beginning to test out. While we can't directly vouch for some of these tools, but if you want to get other perspectives we recommend these articles:
Beyond Zoom: Virtual Gathering Spaces for the Holidays and Beyond
9 Of The Best Virtual Audience Engagement Tools On The Market
50 More Virtual Event Platforms for Your Next Online or Hybrid Gathering
Side note: For any technology – especially if it's new to you – do a test run, have a backup plan, and double up on staff and facilitators.
What did we miss?
What virtual engagement platforms have worked (or not worked) for you?
How have you merged a return to in-person events while maintaining a virtual component?
Have you experienced more citizen engagement (meeting attendance, surveys completed) with more virtual options?
It's more important than ever that every community from the biggest cities and counties to the smallest towns proactively, intentionally, creatively and effectively engage their citizens in the work to aggressively combat climate change and create more resilient communities. As we all wade into these "new normal" waters, KLA will use this blog, Twitter and LinkedIn to share what's working with our clients' hybrid community engagement – and we'd love to hear from you!