I've just posted the most recent SAS Talk podcast and during our conversation my guest Erin Deady of Erin Deady Law, who helped get Property Assessed Clean Energy (PACE) financing off the ground in Florida, says she expects 2017 to be "The Year of PACE." We explore that and more as we kick off a Financing Solutions series, shining the spotlight first on PACE as one of many tools local governments have at their disposal to support clean energy, climate protection and sustainability projects in their communities.
Listen to the PACE podcast with Erin Deady now.

PACE is an increasingly popular way to finance renewable energy and energy and water efficiency improvements for private buildings. Local and state governments essentially fund the investment costs for these improvements (which range from lighting upgrades to solar panels to insulation) on commercial and/or residential properties that are paid back over time by the property owners with an assessment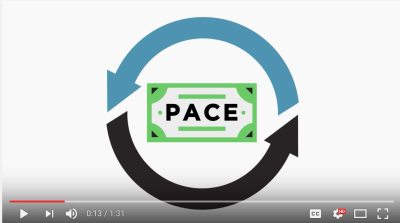 added to the property's tax bill. Here's a short video introduction to PACE that is worth sharing with colleagues, too.
Erin, in partnership with others, started Florida Green Energy Works, which is now part of the national group Renew Financial, to help implement Florida's PACE statute which was passed in 2010. Take a listen as Erin gives us a solid overview of why PACE is such an attractive tool for local governments.
Here are a few other key takeaways from our chat:
One challenge for PACE has been some concern at the federal level about how it is a vehicle for extended financing through the tax bill. This has left some local governments wary of the risk involved, though that risk and perception have diminished greatly.

In Florida the drivers of PACE financing are AC (it does get hot in the Sunshine State!) and hurricane protection like wind resistance improvements.

One of her goals for Florida is to have flood mitigation included; at this point Alabama is the only state where PACE includes flood mitigation (California allows for earthquake resilience measures).

Most local governments in Florida are using third parties to implement PACE because of the multidisciplinary nature.

It's unclear what the Trump administration will mean for PACE efforts at the state level, but she doesn't want to lose the momentum we're seeing right now.
This news article from last summer outlines the saga of PACE in Florida -- the headline "After a slow start, PACE financing picking up in Florida" underscores some of Deady's points about PACE moving quickly in the right direction.
As Erin points out, the PACENation website has easy links to case studies, all PACE legislation and quarterly market updates. Their "How to Start a Commercial PACE Program" guide walks you through the entire process including perspectives from local government officials based on their experience.
In doing some prep for my chat with Erin, I came across this article from last week about PACE in Virginia where Arlington County is the first local government to start a PACE program. Virginia first passed PACE legislation in 2009 and then fixed the authorizing legislation in 2015 and set the stage for Arlington to move forward and, as the story notes, "Charlottesville, Hampton Roads, Richmond and Roanoke are municipalities keeping a close eye on Arlington's progress, as is Loudoun County, also in northern Virginia."
It reminded me that PACE is both complicated and potentially on the verge of that "Year of PACE" breakthrough that Erin referenced. It has been around in various iterations for years, but many local governments have been on the sidelines...until now.
My interview with Erin is just the first in a Financing Solutions series where we'll explore other tools for local governments to finance climate and energy projects and dig a bit more into the pros and cons of PACE and other financing mechanisms.