If a disaster -- a hurricane, flood, wildfire or other major disruption -- struck your community tomorrow, how would it fare? The answer to that question doesn't just depend on the type and severity of the disruption. It has a lot to do with what your community looks like today.
Post-disaster recovery often hinges on community cohesion. What does that look like? Organizations partnering together. Strong leadership outside the local government. Neighbors knowing each other. Spaces where people get together. Meaningful efforts to address ongoing stresses in the community such as racial inequities, affordable housing, jobs and living wages.
That community cohesion can take many forms, but what's notable these days is the push to give it a home in resilience hubs.
Let's dive in to some resilience hub basics and how some communities -- including our clients Cambridge and New Bedford, MA -- are getting started.
We have a good primer on resilience hubs in our previous blog post and our podcast with Kristin Baja of the Urban Sustainability Directors Network (USDN).
What a Resilience Hub Is...and Is Not
What a Resilience Hub is NOT:
An underground bunker that sits dormant until a disruption
A community center with a couple of minor upgrades
The same thing in every community
What a Resilience Hub CAN be:
A useful everyday space for community classes, health clinics, food, disaster preparedness workshops and more
A place where people can go for emergency supplies, power, safety, community togetherness and more during an emergency
A way to empower people to react and respond to disasters on their own and protect their neighbors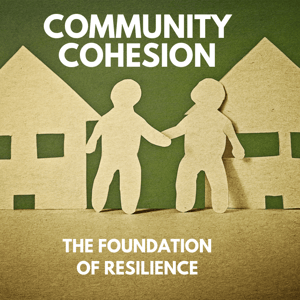 Physical and Programmatic Considerations
When we're scoping out a resilience hub location, we're asking questions about the physical space like:
Can the space function when the power grid is down (using solar or a backup source of power for up to 72 hours)?
Is there storage for backup supplies (blankets, food)?
What about a kitchen and the ability to make ice?
Are there proper medical supplies and physical, separate space to treat people in crisis?
Is it accessible to people with disabilities?
Is it located in a flood zone or other precarious spot?
And we're thinking about programmatic elements like:
Is this a familiar and welcoming place to the surrounding community? (Interesting side note: The City of Ann Arbor, MI, polled residents and found a high level of trust in firefighters. So they are locating a resilience hub at a fire station)
What other projects and programs are already there
Can it support ongoing programming like English classes, child care, job trainings, health care, athletics and social gatherings?
We like to quote one of our clients who tees up conversations about resilience hubs with this question: "If this was across the street from you, what would you want it to be?"
Massachusetts Resilience Hubs
Cities across the country are considering resilience hubs as part of their efforts to prepare their communities for climate change and other disturbances. KLA is currently working with our clients New Bedford and Cambridge in Massachusetts to develop a business plan for resilience hubs.
We're in the beginning stages with both cities, and key steps for all communities to consider early on in the process (based on guidance from USDN) include:

Establish a need, buy-in and funding. This step is important to understand how to enhance existing or create new programs and services to meet the needs of the community. What does the community need? How does the resilience hub aligns with community or local government goals (and potential funding streams)? Communities can look for financial and in-kind support from local, state and federal governments; foundations; impact investment funds; utilities (incentives); universities and researchers; and vendors.


Build project teams. These core partners can be representatives from local governments; local business; community leaders and community based organizations; public works; neighborhood associations; first responders; educational institutions; hospitals and clinics; cultural institutions like museums; and faith-based leaders.


Assess vulnerabilities, sensitivity and adaptive capacity: This is where you look into anticipated climate impacts and chronic stressors and awareness of and concern about it in the community. You also dive into questions like:

Housing: Who owns, rents or is in public housing. What's in a flood zone? Who has insurance?
Food security: Where is the closest grocery store? How do people access it? Will it stay open in an emergency?
Mobility: Who has access to cars and transit? Is transit reliable? What evacuation options do people have?
Health: What chronic illnesses like asthma do people have? Who relies on medications, including those that need refrigeration? Do people have insurance?
In New Bedford, where the effort is funded by Partners for Places and the Island Foundation, it's early enough to be a blank slate. The city is searching for spots that meet those physical and programming needs and working in coordination with a variety of groups like Groundwork Southcoast (non-profit working to transform the natural and built environment of low-resource communities), Near North End Alliance (local collaboration of nonprofits focused on the health and safety of the Near North End neighborhood), and the Community Economic Development Center (CEDC) (economic justice and affordable housing nonprofit).
In Cambridge, two community-based organizations were invited to explore how to become a resilience hub. Our team has taken a four step approach:
1. Research the demographics, history of the site and neighborhood, previous studies, and other background information to develop a baseline of the neighborhood.
2. Conduct a Meet and Greet to learn about the organization's structure, finances, membership and programs. At this meeting, we also discuss their vision for the next 5-10 years.
3. Complete a Site Audit to assess the organization's physical building elements including heating and cooling, flood risk and history, electricity use, plumbing, and general state of the structure.
4. Based on the background research, Meet and Greet, and Site Audit, we will develop a business plan that includes recommendations for programming, structure upgrades, and other services the organization can provide. This will be laid out to include who is responsible, key partners, cost, funding sources, and a timeline for each recommendation. The business plans will be completed by June 2019, and we hope to explore next steps with them to begin implementation in the summer.
Resilience hubs were a hot topic at the National Adaptation Forum (NAF) in Madison last month. Among the presentations we attended was by Kristin Baja -- we included some of her slides here.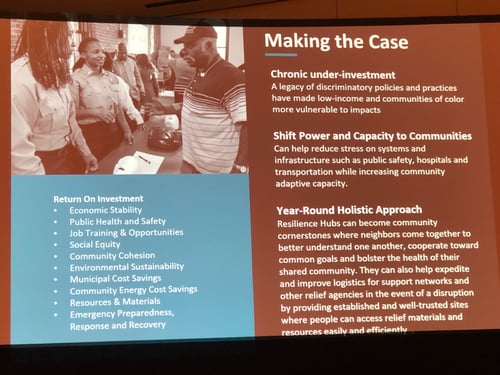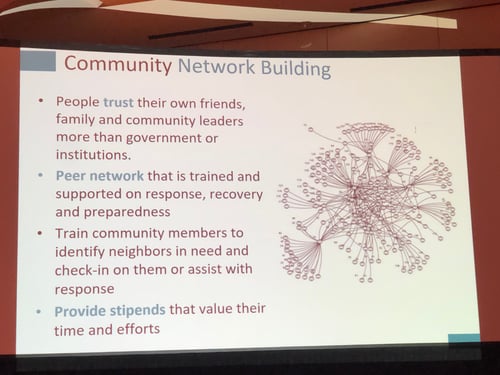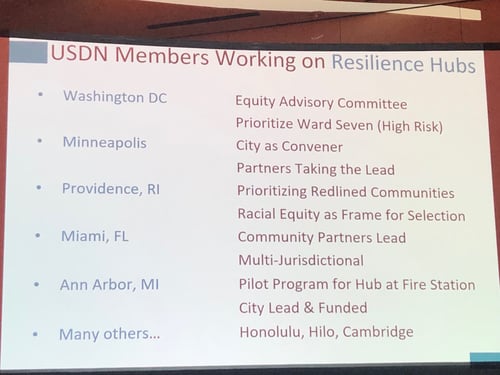 If you read one thing today...
One thing you'll hear over and over again about resilience hubs is that, to be successful, they must shift power and capacity to the community. Case in point is the incredible story of Miami's Valencia Gunder whose response to Hurricane Irma became a model for resilience hubs nationwide.
Here's an excerpt, but we strongly recommend you read (it's a short read) the full story:
"As wealthier residents booked last-minute flights to escape the storm, Gunder worked against the clock….
The morning after Irma roared through, Gunder wasn't thinking about resilience hubs. Ignoring the flooding in her own house, she met a small group of volunteers at the empty warehouse, which she dubbed the community emergency operations center, or CEOC. They pooled together the little money they had and went straight to any stocked grocery stores to buy hot dogs and buns. Then they dragged Gunder's grill from her home to low-income neighborhoods, one by one….
In her adrenaline-fueled rush to save Miami's poorest from devastation, she didn't realize she'd laid the groundwork for a whole new way of building community resilience. That approach is now being adopted by cities around the US that, like Miami, are grappling with intensifying hurricanes, droughts, and floods."
How can you foster the type of community cohesion that positions you and yours neighbors to survive and then thrive in the face of disaster?