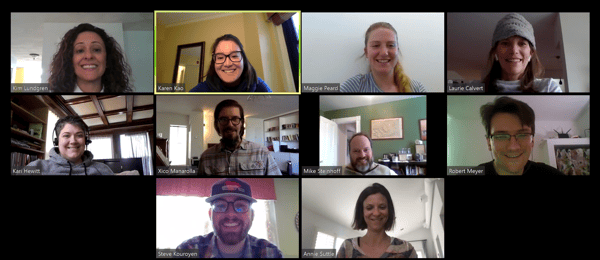 We hope you and your family are staying healthy and safe during these scary times. The threats to our public health and economy are unprecedented, yet the responses of communities nationwide rallying together while staying physically apart keep us going.
May you also find success transitioning to working from home (as you can see, we moved a team strategy session to Zoom with plenty of smiles), keeping your kids educated and entertained, and tracking down toilet paper and wipes.
The uncertainty around the trajectory of COVID19 makes it unlikely that any public events will go forward as planned this spring -- including Earth Day (the international celebration has moved to a digital mobilization event) or community engagement around sustainability, climate and/or resilience planning. Even smaller stakeholder meetings will be impacted.
Cancellation is not your only option! Be resilient! In fact, for the sake of our communities and our planet, the show must go on in some shape or form. There are plenty of options for creative workarounds.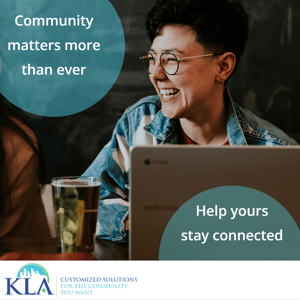 At KLA, we are here for you. Are you already thinking about options to continue effective, equitable community engagement in this time of physical distancing (we can still be social!), working from home and self-quarantines? If so, drop us a line and we'll talk through the approach(es) that would work best for your goals and needs, including:
Utilizing Facebook Live, Zoom, Skype and other online platforms for interactive, virtual meetings and events

A library of online resources you can offer to residents, teachers, and others to utilize for mini-events, teach-ins, home schooling, and more

Surveys, live polling, and crowdsourcing tools and opportunities

Strategies for continuing equitable engagement that reach those not able to participate online

Social media, communications and messaging
Here are some starter ideas:
People Are Connecting Online in New Ways
Many of your residents will be online working from home and utilizing platforms like Zoom and Facebook Live. That will make it easier for you to take your events and engagement efforts to them online, and it's the perfect opportunity to do more -- and more creative -- social media outreach.
Create a Green Home While You're There
People will be spending more time than ever in their homes, so create a simple checklist for them to assess their sustainability progress and opportunities around the house. Give them tips on how to monitor and reduce energy use with everyone under one roof constantly, turn family walks into neighborhood cleanups, and give composting a try -- a quarantined home can become a green home!
Support Community Connections
Local nonprofits and school districts are supporting families during school closures with food and book deliveries. Could your staff volunteer with those groups and provide a one-pager with educational information and resources? When your schools send out resources to parents and teachers, share kid-appropriate sustainability resources.
We can help you think this all through! We know these are difficult times for our families and communities. As you come up for air to contemplate next best steps for your spring community and stakeholder engagements and Earth Day plans, keep KLA in mind as a resource.
Stay tuned (connect with us on Twitter and LinkedIn) for ongoing updates and opportunities related to community engagement in this age of physical distancing!
And please get in touch if you want to talk through your needs.