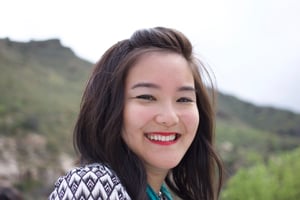 If there is one thing the KLA team has been so far in 2020 it's BUSY! With a raft of new sustainability, resilience and climate action work, we are thrilled to welcome Karen Kao to the team as Project Manager!
Karen, who knew Kim from their time at GreenerU together, is already diving into our work with clients from around the country and will help us continue to deliver high quality service even as we expand that client list. Here's a bit more about Karen:
What brought you to this line of work?
I've come to learn that project management is a fine art, and my appreciation for it grows every day. Knowing that I'm equipped with industry standardized best practices for tools and processes, as I'm learning in my studies for the PMP certification, I've come to realize that I can offer the most in this field by combining my subject-matter expertise (and love for) applied sustainability with project management strategies to ensure that all those exciting ideas around sustainability solutions can be made into reality. That is what brought me to this line of work and also what keeps me immersed in it.
What gets you out of bed and fired up every day?
A strong cup of coffee…and sustainability, of course! I'm fired up by knowing that regardless of how complicated or how long of a road enabling sustainability can sometimes be, that I actively choose to contribute to its advancement. Whether by working with communities on making smart decisions around urban development, renewable energy, and other critical issues, or by simply choosing to commute via bike instead of car.
What excites you most about the work you'll be doing at KLA?
Working to empower residents and local officials to take charge of the resilience and well being of their beloved cities is incredibly important work. I'm excited in knowing that KLA is there for these cities every step of the way to help people make informed decisions for the betterment of their community and that I can contribute by ensuring projects run smoothly and that goals are achieved.
What are some sustainability topics you're most interested in?
Urban development, biomimicry, renewable energy, and land/wildlife conservation have been consistent interests of mine. Currently trending interests also include circular economy and regenerative agriculture.
Where can we find you when you're not in the office?
I'm an avid hiker, so when I'm not in the office, I'm usually outdoors on a trail somewhere enjoying a sunrise, watching a flock of birds go by, or just enjoying the fresh air.
Please join us in welcoming Karen to KLA!