New year, new face at KLA. We are thrilled to welcome Kari Hewitt to the KLA Team as Director of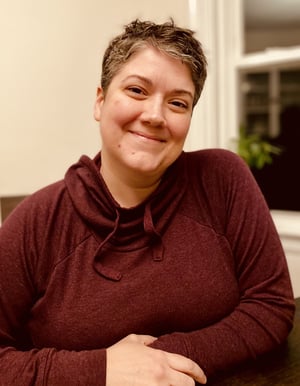 Client Services. She joins us from VHB after 10 years, most recently as Director of Sustainability -- and where she and I worked together.
Kari will hit the ground running leading our work with the State of Delaware in developing their Climate Action Plan, supporting our MVP action grant clients in Massachusetts, and continuing to expand our reach throughout the country.
Many of you already know Kari and will share our excitement about adding her expertise and energy at this critical time. For those who will just now have the pleasure of working with her, I did a quick Q&A with Kari so you could hear from her in her own words.
How did you get into this line of work?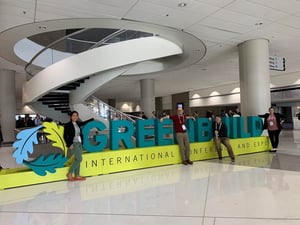 I guess you would call this a lifelong passion for me, or perhaps a common sense choice to work on making things that are clearly not right in the world better. I've always been drawn to issues of social justice and in my last year of studying sociology at Smith College, the dots began to connect for me around concepts of environmental justice, health inequities, and began thinking about how that played out in climate change as well. I decided to further pursue these concepts with a focus on climate justice and sustainability from a systems thinking perspective, but applied through work as a planner. During and after getting my Master's in Planning at Tufts, I jumped into the deep end on technical green building, energy, and climate action work, and the rest is history.
If you had to choose one topic that gets you out of bed and fired up every day, what would it be and why?
Well, it's hard to choose just one thing. I guess climate change as a big picture issue. On a more specific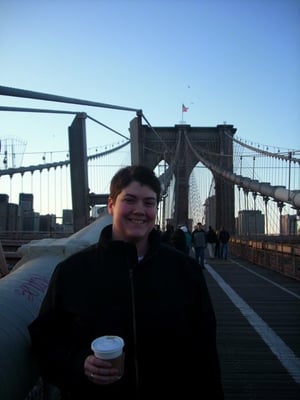 level, I find food systems fascinating. Food is such a unique and challenging area within sustainability. It gets at the most fundamental of human needs, and is such a personal and cultural thing, but also has implications for the environment, human health, and economies at every scale - from the individual human and the choices we make, all the way up to global distribution of food and accessibility/equity issues. I'm really interested in pollinators, the stress currently on those populations (and therefore our food supplies), but also in the amazing opportunities to educate, empower, and employ people in developing and implementing solutions to these and other food system challenges.
Why make the move to KLA now?
There is no challenge we're facing greater than climate change. This next decade will be critical in our efforts to reverse trends and curb the worst outcomes of climate change. It is personally very important to me to work with a group of colleagues that are unapologetically passionate about and committed to social justice, sustainability, and climate action in all the work that they do. And I know this KLA team will be just that.
What challenges and/or opportunities and/or specific projects are you most looking forward to tackling at KLA?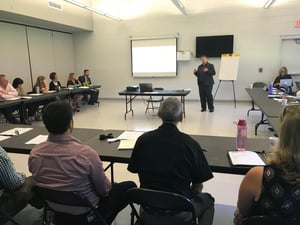 I am extremely excited to tackle new and innovative ways of doing stakeholder engagement in this work. It's an area where we, as a society, are still coming up short in terms of meaningful equitable engagement and empowerment. It's not an easy thing to tackle but I think is essential to climate justice and sustainability, and am excited to work with clients on this challenge. I also love that one of my colleagues has the word "storytelling" in their title. I am a huge fan of storytelling (and even active in a storytelling community locally), and think it is such a powerful way to find common ground and share perspectives, and will be essential to collaborating effectively for the significant change we all need to be part of.
When you think about our work with cities on climate and sustainability, what experiences and expertise will you tap?
I think I am bringing an interesting mix of experience to the work at KLA. In addition to having spent the past decade working on local government climate and sustainability plans, I've also had the opportunity to work with a variety of sectors and project types focused on sustainable and resilient planning, design, implementation, and decision-making to support continuous improvement. I've worked with local governments, state agencies, airports, transit agencies, private developers, and spent the last 5 years leading a corporate sustainability program.
Stakeholder engagement processes and utilizing applied technology solutions have been a common thread in all of this work and will continue to be in my work with KLA.
I think I'm also bringing a unique understanding of how planning plays out in implementation. I've been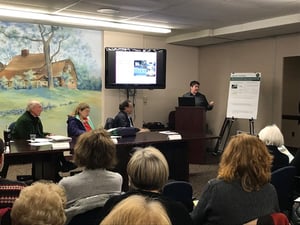 lucky to have had the opportunity to work with clients at a planning level but then also with the same clients on implementing some of the programs/policies that emerged as part of that planning. Related to this I've had experience working with agencies to programmatically implement sustainable and resilient design into their guidelines and design processes.
I've been actively engaged with the Institute for Sustainable Infrastructure, including sitting on their Envision Review Board for the past 4 years. This experience has taught me a lot about how community-scale sustainability plans play out at the project scale. Increasingly we will need to bridge silos between departments, agencies, communities, and leverage resources to tackle major challenges associated with a changing climate and growing population. I see an important need to build more strategic partnerships among those working on these issues at all scales and am hopeful I can bring my experience and insights to helping make that happen.
Finally, I see myself as an educator in all the work that I do, and in fact, do teach (and will be teaching this semester at Tufts University). I really enjoy this aspect of my work - having the opportunity to both train others and share practical experiences, but also learn from students and colleagues and staying on top of new ideas and approaches in the field.