The KLA Team reflects on the value of working with women and those who have inspired us most
Women's History Month is clearly cause for reflection and celebration at a company founded and run by a woman with women occupying a majority of staff positions (and client representation). So we asked the team to share how being a woman – or working with a team of women – has shaped their careers and a woman that has inspired them.

Kisha Young
I come from a lineage of strong women. Transitioning to working in corporate America, I have gravitated towards and embraced female leadership. I have had the privilege to have worked with several amazing female executives. Under their leadership, I have learned the true definition of hard work, dedication, and perseverance. The ability to think outside of the box, and develop their teams, and accomplish goals, will push the team to meet that energy.

One of the women I admire most would be Mary McCloud Bethune. The child of former slaves Mary pursued her education then started educating other African American women. She was the 1st African American advisor to a president, President Franklin D. Roosevelt. She was the only women of color present at the founding conference of the United Nations in 1945. She was a champion for equity and inclusion and for those reasons I admire and salute her.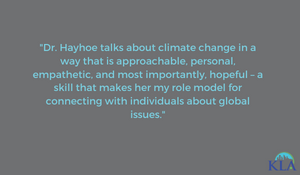 Therese Dorau
I am inspired by atmospheric scientist Katharine Hayhoe. Although she is expert in a deeply technical field (the statistical methods used to create climate projections), she is devoted to finding ways to communicate climate science to regular people. I also admire how she uses her experiences as a person of faith to bridge the gap between science and religion that prevents so many climate conversations. Dr. Hayhoe talks about climate change in a way that is approachable, personal, empathetic, and most importantly, hopeful – a skill that makes her my role model for connecting with individuals about global issues.

Mike Steinhoff
One of the best examples of what women can do in leadership roles has been to watch as my wife took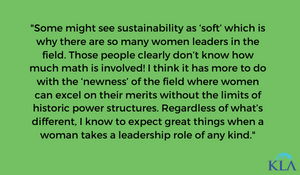 initiative within her position to single-handedly eliminate literal tons of plastic from the supply chain she manages. Seeing women in leadership positions has been a constant in my career. From when I first joined ICLEI-USA as the lone male in an office among a dozen super-talented women to a decade later seeing Angie Fyfe deftly restructure the organization and continue to deliver impact at scale as Executive Director. Of course this experience continues at KLA as my many female colleagues are always taking the next set of challenges head on. Some might see sustainability as 'soft' which is why there are so many women leaders in the field. Those people clearly don't know how much math is involved! I think it has more to do with the 'newness' of the field where women can excel on their merits without the limits of historic power structures. Regardless of what's different, I know to expect great things when a woman takes a leadership role of any kind.


Kate Galbo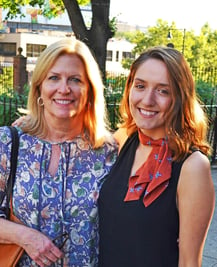 Growing up, I did not fit into the normal gender constructions that women were believed they should be in. Read: no pink or purple, climbing trees, muddy knees, etc. My world's worst nightmare? Being called "girly". The older I grew, I became less concerned with these stereotypes and realized that femininity had much less to do with society's expectations and much more to do with how you express yourself and accept others. To me, being a woman means showing up authentically for yourself and others. I've had the privilege of working with smart and strong women (and men who support strong women!) who share these ideals and empower me to be more like myself.

My mom is a source of inspiration for me for encouraging me to be accepting of myself and others and pursue my passions. She is an avid storyteller and has shown great resiliency in the face of life's many struggles.

Taylor Arrington
In my experience, women bring empathy to the table (amongst other things) in a way that enriches the conversation and yields the best results. Collaboration also seems to outweigh competition when I've worked primarily with women.

Years ago, I worked for the founder of an organization called Women Waging Peace, that has since become Inclusive Security. The work that this group does can be distilled into one message: when women are given a seat at the table, conflict resolution and sustainable peace is more achievable. I think in today's world their mission is even more essential.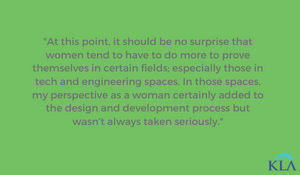 Danielle Civitillo
Prior to joining KLA, I worked in a very male-dominated industry. At this point, it should be no surprise that women tend to have to do more to prove themselves in certain fields; especially those in tech and engineering spaces. In those spaces, my perspective as a woman certainly added to the design and development process but wasn't always taken seriously. I have been fortunate, however, to have met and collaborated with many amazing women and non-binary folks through the years who have pushed and encouraged me to do all of the things I'm most proud of in my career.

I'm inspired by so many amazing women and non-binary folks. I see activists and politicians like Elizabeth Warren, Jane Fonda, Feminista Jones, Greta Thunberg, Alok Vaid-Menon, Ayanna Pressley, Ilhan Omar, and countless others who are constantly dealing with so much doubt, scrutiny, and uphill battles yet always persisting. And then there is the team I work with at KLA who are each fighting for a livable and equitable future alongside Kim and her incredible leadership and perseverance. Whenever I am feeling like it's too much or too hard, I think of all of these folks and how they keep going no matter what. Nevertheless, we will persist.

Meddy Smith
Since joining the KLA team I have been inspired each and every day by the creativity, dedication, and teamwork displayed by my female-identifying colleagues. Working with such a strong group of women on one of the greatest challenges of our time (*climate action!*) has shaped my professional and personal growth in ways that will stick with me for a lifetime. What's better than working with your role models every day to make the world a better place?

Annie Suttle
I have had the good fortune to spend the bulk of my career under the leadership and in the partnership of women, from many years at KLA to nonprofits in Virginia and California. It was not something I sought out intentionally, but clearly on some level I knew what works best for me and the organization. I think this is rooted in the passionate, empathetic, strong-willed, funny, sharp-as-a-tack women I've worked alongside.

My admiration of female leaders includes the climate and environmental realms, criminal justice, politics, school advocacy and beyond, spans from today back centuries, and includes friends and complete strangers. As a mom to two young sons (who get regular lectures on the power of women), I'm in awe of so many superhero women but one who stands out is Shannon Watts, the founder of the gun violence prevention group Moms Demand Action. The short story is that she went from stay-at-home-mom to a powerhouse activist all because she was enraged by the senseless slaughter of children at Sandy Hook. She said "As a mom, I can no longer sit on the sidelines." The lived experiences, networks and *voices* of women can change the world.