The KLA team just got back from the American Planning Association's National Planning Conference in New York City. Here are 10 of our most memorable moments and key takeaways from the event:
1. The Tech Zone was hopping. We set up the KLA shop in the Tech Zone of the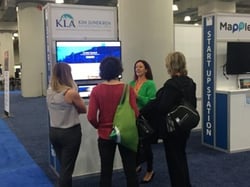 Expo Hall and were busy every day talking with folks about our services and doing on-the-spot demos of our Dashboard (if you missed us, you can schedule a live demo online or take a quick tour). Plus we drew a good crowd to our presentation on the Tech Zone stage Monday morning.
2. Winner winner chicken dinner! The Expo Hall was full of giveaways and winners, including Petet Lowitt of the Devens Enterprise Commission in Devons, Massachusetts, and Chad Bunger of Manhattan, Kansas, who both won copies of former Mayor Michael Bloomberg's book Climate of Hope that we gave away to attendees at the KLA sessions. And Brecca Johnson of Clayton County, Georgia, and Carol Davidson of Garden City, Kansas, who each won 2 free hours of consulting with KLA -- raffled off to people who scheduled a Dashboard demo.
We didn't just give away prizes at #NPC17, we won them, too! I did the 50-50 raffle run by the APA New York Metro Chapter. I split the $200 winnings and gave half back to the chapter.
3. And more winners! Among the special events at #NPC17 was a reception honoring the recipients of the 4th annual Awards for Excellence in Sustainability. Drumroll please for these amazing communities and projects:
Sustainability or Resiliency Plan or Project: evolveEA, Millvale EcoDistrict Pivot Plan (Millvale, PA)
Sustainable Urban Design Plan or Development Project: City of Austin Planning and Zoning Department Urban Design Division, South Central Waterfront Vision Framework Plan (Austin, TX)
Sustainable Transportation Project: HDR, Kansas City Downtown Streetcar (Kansas City, MO)
Sustainable Park, Recreation, or Open Space Project: The Conservation Fund, Lindsay Street Park (Atlanta, GA)
Leadership in Sustainability: Maryland Department of Housing and Community Development Division of Neighborhood Revitalization, Maryland Sustainable Communities Program (Baltimore, MD)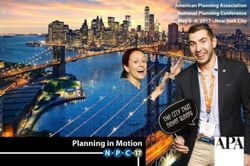 4. Always wear the green dress. The "green screen" at a photo booth paired with a green dress, makes for a lot of fun -- and funny photos. Had a blast with our friends from Babylon, NY there.
5. The equity piece of the sustainability pie is critical. In presentation after presentation not to mention countless side conversations, the notion of equity -- often overlooked as one of the three pieces of sustainability along with the economy and environment -- surfaced as something to consider in planning.
We heard lots of talk about moving away from the traditional workshop as the primary or only means to get community input on proposed projects. Ideas included having multilingual staff and engaging neighborhood ambassadors, finding people where they already are (bus station, movie theaters, rec centers) and giving them quick -- 10 minutes -- hands-on ways to give feedback.
6. Participatory is THE buzzword. It might not be a new concept, but the "participatory" theme (planning, budgeting, etc) is a hot topic.
San Francisco has worked with the group GroundPlay to get ideas from the community and build temporary installations that "turn underused public spaces into joyful community places." At APA they told us more than 100 installations have gone up around the city over 2 years, and it has created a way for people to contribute ideas -- based on their intricate use and knowledge of the spaces -- who wouldn't necessarily be equipped to respond to a typical RFP process.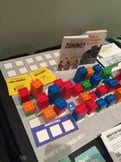 7. Make planning tactile and fun. A Monday 7:30am session can be tough, but the panelists at "Participatory Planning in Health and Transportation" session kept things lively. Which makes sense, given that they were there to talk about how to do the same for planning. It's worth listening to a recording of this session or checking out the resources at the Center for Urban Pedagogy or CUP.
They had great examples of:
8. People want to see action. The best sessions we attended were presenting more than just academic research and theories. It was those with local government representatives and planners on the ground actually applying new approaches and ideas and showing results (the good and the less good). Indeed, the feedback on the KLA session with Sarah Marchant of Nashua, New Hampshire, was lauded for giving Sarah the stage to talk about their experience, results, lessons learned and future plans.
9. They also want notebooks. People loved the notebooks we gave out. We opted for more than just the branded flimsy notebook and went for one with a magnetic flap and handy-dandy post-it notes.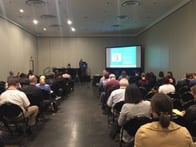 10. Data matters. We've built our Dashboard around the idea that open data, transparency and accountability expectations will only increase for local governments. More and more data will be available -- and we'll be expected to do more and more with it. And we heard that echoed in several sessions. Fortunately, plenty of the speakers had solutions that cities can start using now to address those expectations and to translate that data into compelling stories to engage our communities.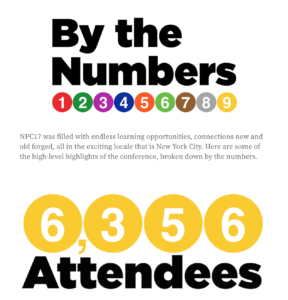 We were exhausted but completely exhilarated by the time APA closed and can't wait to check back in with folks throughout the year and again in New Orleans in 2018.
If you missed us at APA, you can contact us at anytime, schedule a live demo of our Dashboard or check out our SAS Talk with Kim podcast.