The KLA Team has been so grateful to work with dozens of clients and partners this year to develop ambitious climate action plans rooted in equitable engagement and to activate sustainability storytelling through our community dashboards. Thanks to all of you, we're one year closer to an innovative, equitable, and sustainable future.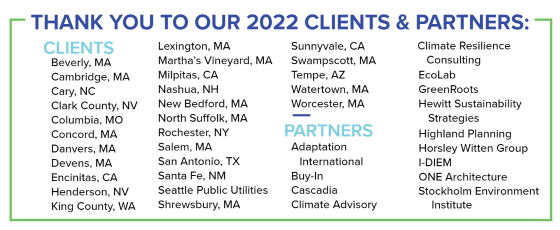 We had a LOT to say about our ideas, action, and impacts this year through our social media and blog content. We couldn't include everything in one e-mail, but here are a few highlights from 2022 that drew the most interest from you:
Top Blog Post:
KLA Bright Ideas: Heat Pump Coaches in Concord, MA

Top 3 Social Posts:
1. Sustainable Action Series Podcast: A Local Climate Action Pioneer's Reflections
2. Ending Cheap, Disposable Conference Swag
3. KLA's Company Retreat: Clark County, NV

What It's All About:

Innovation. Equity. Leadership. Authenticity. Impact. These are the core values that drive our work at KLA. Learn what makes us the best in class for local climate action by pressing play on our new video that shows just how we turn ideas into impacts.