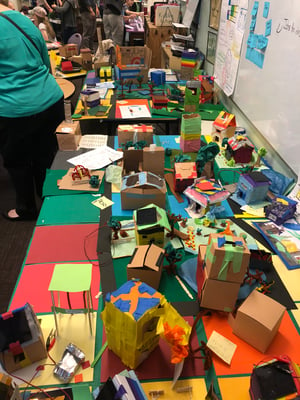 School has just ended here in Boston, giving me time to reflect on all that my daughter, Charlotte, learned and accomplished in 3rd grade.
As a planner and sustainability professional working with local governments, I had a "proud mommy" moment visiting her class to check out Box City. A collaborative class project, Box City can tell cities a lot about what their future citizens want.
It also got me thinking about the importance of two things we talk about with KLA clients often: youth engagement and regenerative thinking.
The Kids are Alright
As these photos suggest, our kids are big thinkers. Here are some of the ways their ideas struck me forward-thinking: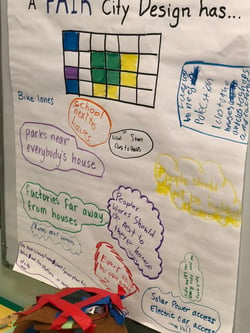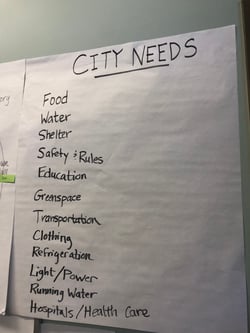 Taking a pass on fossil fuels: The first climate law they passed prohibited using fossil fuels with a penalty of jail for 34 days.
Lights out: They might not like our "lights out" policy for them at bedtime, but in Box City they would save energy with all lights out at midnight.
Ahead of the equity game: Check out the "A FAIR City Design has" image above to see what "fair" means to them (hint: it's not fair that we all live so far away from school, work and each other).
Participatory process: Everyone in the class had a role in shaping Box City, and they used a survey to determine what should be allowed in their city.
Smart homes: Everyone was allowed to build their own home -- and everyone chose solar panels and energy efficient design (see below right).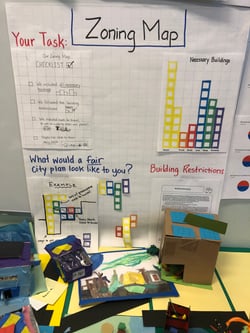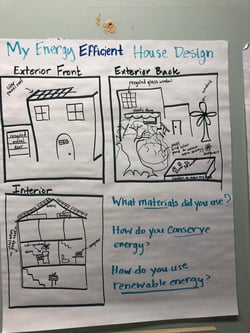 Students were given one of four jobs: Planners, builders, environmentalists and engineers -- Charlotte followed in my footsteps as a planner!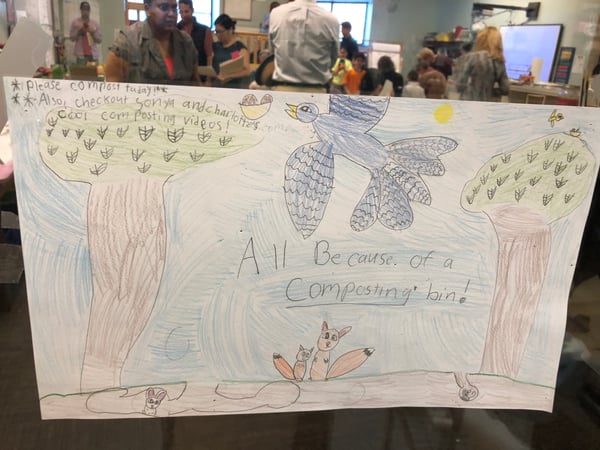 Young Voices Matter
The thought and intention these young kids showed in building Box City is one of the reasons KLA puts an emphasis on youth engagement when we work with cities developing their sustainability, resilience and climate action plans. It's also why we try to make it fun. Box City wasn't a boring lesson plan or lecture -- it's was hands-on and driven by the kids.
Community Day
We've been testing out a few fun ways to get young people (and their families) engaged. Here is a more detailed look at our Thrive Indianapolis Community Day, which included yoga, animals, arts and crafts and a passport activity. Recently we worked with New Bedford, MA, on their New Bedford Resilient Community Day, covered here by the local media: "Children made pinwheels, practiced fire safety techniques, and learned the dos and don'ts of recycling at Magnett Park on Saturday. They, along with their parents and other community members, were at the park taking part in NB Resilient Community Day."
Facebook Live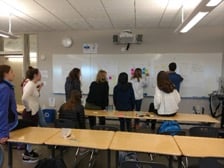 We also worked with our client Concord, MA, to host a Facebook Live event with the Concord-Carlisle High School (CCHS) Green Team. To produce the Sustainability Division's first ever Facebook Live event, the Town turned to the creative young minds of the CCHS Green Team on how to reduce waste around the holidays. During the planning stages, they raised tough questions and discussed the reasons minimizing waste contributes to the Town's climate mitigation and adaptation goals, including decreasing greenhouse gas (GHG) emissions from landfills and reducing public health and environmental impacts.
Street Teams
For our work with Boston's Climate Action Plan update, we hired (and paid a living wage to) many high school and college students as young as 16 to be members of our Street Team. They took surveys to their schools and other places to get feedback from their peers as well as helped table at events and distribute surveys at places like transit stops.
We would also recommend this quick read, "It's Our Future You Are Planning Fore: Getting Youth Involved in Planning," article from Planetizen for resources specific to engaging children and young adults in planning processes.
Many of our communities have been host to the climate strikes -- and sustained action -- inspired by the 16-year old Greta Thunberg, leaving little doubt about the power of the use voice as long as we're willing to listen.
Roots of Regeneration
Box City also echoed many of the conversations we have with client cities about regeneration.
Many schools have fun, educational opportunities -- even full curriculum -- around sustainability, Earth Day, etc. What made Box City stand out to me was that it went beyond the concept of saving the Earth for nature and animals. It helped them understand how our built environment needs to be integrated with nature. This is an area that is gaining more traction as local governments across the nation are realizing the importance of not only protecting what we do have, but actually restoring our natural systems so they can function as they were intended and provide even more benefits to the community.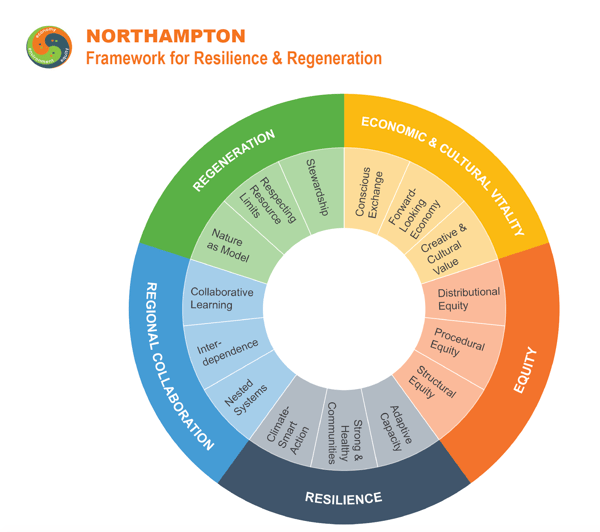 We recently completed a Climate Resilience & Regeneration Plan for the City of Northampton, MA. It was refreshing to see a City openly acknowledge the importance of regeneration and begin to have these conversations with its community members. Our Team worked with the City to develop a framework for resilience and regeneration which will be a great tool for other projects and planning processes moving forward.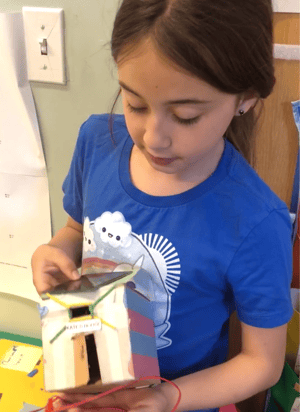 Stepping away from the computer and into the classroom was a good reminder that our children are paying attention. They are aware. They are smart. They have opinions. They can teach us a lot.
And that's my daughter (left) Charlotte showing off her solar-powered, energy efficient home at Box City!