Nike's Swoosh. The classic Apple symbol. The World Wildlife Fund panda. Target's bullseye. These are all iconic brand logos. When you see them, you know what they represent. And when you hear the following words, you probably know the company or product and something about it: Melts in your mouth, not in your hands (M&Ms); Red Bull gives you wings; Like a good neighbor, State Farm is there; Yes We Can (Obama presidential campaign).
The words and visual identity of these brands carry meaning and clearly communicate the essence of that company or organization – and what they want you to do (buy our products) or think (we should protect that panda).
The same should be true for your work on climate action, resilience and sustainability plans.
Bottom line: you need to be deliberate about the words and images you choose in order to raise awareness of and create buy-in for your climate and sustainability work and move people down the path to taking meaningful action in their lives. Branding is a key ingredient to your long-term success, and you have to embrace it early on and stick with it.

A plan without "Plan"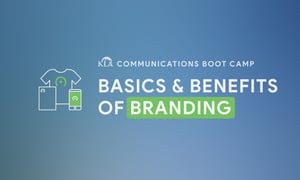 Take these examples: Thrive Indianapolis. All-In Clark County. One Climate Future. Resilient Together. Devens Forward.
What words do you *not* see?
Those are all plans without using the word "plan" (which, by the way, should be in the running for least-compelling word). People are going to respond to "One Climate Future" more than "Portland and South Portland's Joint Climate Action Plan." These might feel like apples and oranges comparisons when you think of branding, but what if Nike had gone with the literal "what" -- "Our shoes and gear will make you a better, more competitive athlete" -- instead of "Just Do It"?
You might also notice that none of them use the word "sustainability" and only one of them "climate." In some communities those terms are either politicized or have a very narrow interpretation – whereas words like "thrive" and "forward" can help grab attention and be an easy entry point for many in your community. We encourage our clients to think bold and broad and then help people make the connections between what they care about and sustainability or climate action.
No, you're not trying to get a bunch of people to buy your shoes or shop at your store. Your charge – to get people to pay attention to the impacts of climate change and then make some behavior change, for example – is WAY harder. And it's why you have to put on a marketing hat on day one.
A branding process anyone can and everyone should tackle
First things first, your logo is not your brand. Your brand is what your logo should represent. We work with clients on an expedited brand development process because let's face it, local governments don't have the luxury of a year-long intensive process with market research, focus groups, and other bells and whistles. Here's the gist of our process that we've put into action with more than a dozen clients:
Vision. We start with the vision and purpose, clarifying what it is our clients want people to think, feel, know and do.


Background. The vision step happens alongside an audit of current brands in the department or local government and recent community initiatives. The aim is to ensure we're aligned where necessary, avoid competition or confusion, and leverage all opportunities for brand awareness and engagement.



Listen.

We have an open conversation where we listen to our clients use their own words to discuss what makes the community unique, the local personality, and how they describe their climate and sustainability work. It's here that we tease out the key messages we want to communicate/feelings we want to elicit.

You can get a sense of some of the questions we use as a discussion guide from this blog post and podcast we did a few years back after our KLA branding experience.

For example, with Concord, MA, we kept coming back to the concept of their revolutionary war history and how they can be just as cutting-edge now. So we led with the tagline "Revolutionary. Resilient. Ready." with the topline message "The climate crisis requires revolutionary thinking and action. In Concord, we know a thing or two about that."

And for Clark County, NV, you can't hide from the imagery of the Vegas Strip. But you can embrace it in a smart and subtle way, which our client did by selecting "All-In Clark County" and emphasizing the area's bold and innovative character. "All-In" is multifaceted in that, beyond a play on gaming, it speaks to their focus on an inclusive and equitable approach.



Design.

In the next stage, we turn to Logo Tournament which is a fast, cost-effective, collaborative tool for creating a logo. You set a "prize" amount and provide your brand messaging along with some basic stylistic direction to designers from around the world who submit dozens of logos for you to consider. You provide feedback and work with the winning designer to finalize your logo.



Considering Logo Tournament?

Read our 5 Pro Tips first!


Package. The end result is a package that KLA pulls together that includes: a plan name, tagline, key messaging, logo, and style guide with typography and color palette. These form the foundation of all communications materials – from website to brochures, icons to the final plan design – to ensure brand consistency at every stage of the planning process and beyond.
Here are some examples of brands that KLA has helped our clients develop (see more examples here):
Beverly and Salem, MA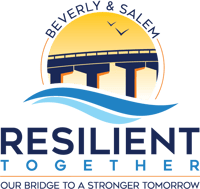 Resilient Together
Climate Action and Resilience Plan
"Resilient Together is our collective action in the face of the climate crisis: our Climate Action and Resilience Plan. We're embracing a proactive, collaborative approach to ensure that Beverly and Salem remain inclusive and thriving communities, attractive and accessible to diverse families and businesses. As communities steeped in history and passionate about the future, we will draw on the unique strengths of each community, tap into each other's successes and lessons learned and share resources. We'll rise to the challenges and opportunities related to climate change and resilience – from affordable housing to clean energy, smart transportation to waterfront growth. Resilient Together is our bridge to a stronger tomorrow."
Clark County, Nevada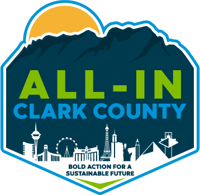 All-In Clark County
Sustainability and climate action planning initiative
"Clark County is many things to many people, but at our core we are resourceful and bold. From the Las Vegas Strip to Red Rock Canyon, you will find pristine lands, cultural treasures, year-round outdoor activities, and world-class entertainment, making our community a vibrant place to work, play and live."
Devens, MA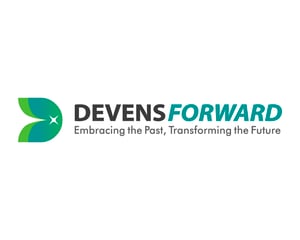 Devens Forward
Climate Action and Resilience Plan
"The Devens community promotes a balance between economic development, quality of life, and environmental awareness. Just as we have with base redevelopment, we're taking holistic approach as we consider climate change and how we plan for the future."
Harvard, MA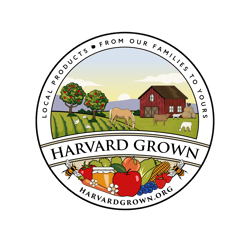 Harvard Grown
Marketing campaign for local agriculture community
"Visit the scenic Nashoba Valley west of Boston and you'll discover dozens of Harvard farms that make 'farm to table' a reality. There are wonderful farm experiences waiting for everyone here, from roadside stands to pick-your-own, alpaca visits to farm tours, and CSAs to a selection of home and gift items. Families from near and far come back season after season and year after year for the fresh air, friendly faces, quality products, and the mosaic of landscapes that Harvard farms provide."
Indianapolis, IN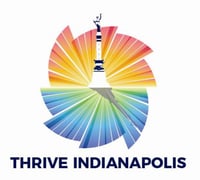 Thrive Indianapolis
Sustainability and Resilience Plan
"The development of Thrive Indianapolis, the first sustainability and resilience action plan in our city's history, brought together City departments, County agencies, community partners and residents to chart a course for an Indianapolis that is equitable, healthier and prepared for the challenges of the 21st century."
Portland and South, Portland, ME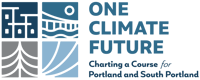 One Climate Future
Climate Action and Adaptation Plan

"Together, the communities of Portland and South Portland have created One Climate Future, a climate action and adaptation plan that charts a course towards a low-carbon, thriving, and inclusive future."
Each of these examples underscores the need for local governments – no matter how small – to factor in an early-stage branding component as they embark on climate action, resilience and/or sustainability planning initiatives.
Facing down the climate crisis requires bold action by cities, towns, counties and -- ultimately -- each one of us. As more communities accept that challenge in the form of sustainability, climate action and resilience plans, it is imperative that they harness the power of compelling branding and messaging right out of the gates to make meaningful change.
There's more! Click below or here to access:
14 Do's and Don'ts for your local climate action branding

Pro Tips for Logo Tournament

Additional examples of local climate and sustainability logos