So you've read our "Yes, Your Climate Action Plan Needs a Brand" post, and we convinced you of the value of investing in intentional branding and messaging at the very start of your planning process? Good stuff.
Get started with 7 Do's, 7 Don'ts, 5 Pro Tips and 14 examples: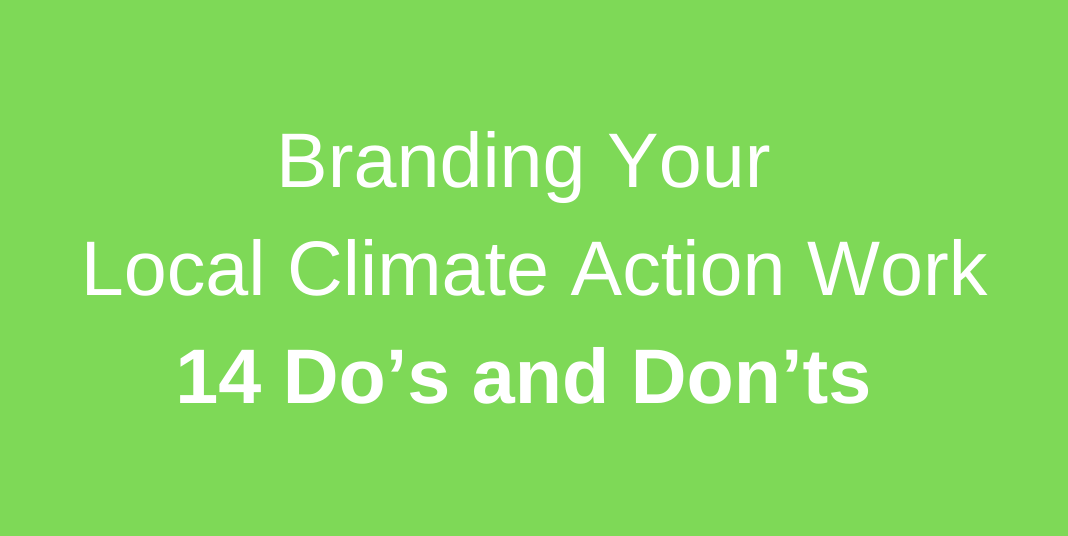 Branding Basics: Do
Factor in your local political climate and community vernacular when considering language such as "sustainability, "climate action" and "resilience."


Play around with different applications of the names you're considering. Say them out loud, use them in sentences to describe your planning effort, draft up social media posts using them. Is one more versatile than others?


Think about what locations in or features of your community are immediately recognizable, and play on these in your logo design and messaging.


Have a sense of whether you prefer literal or abstract representations of your community or the topic. Consider ADA compliance when choosing fonts and colors (here's a tool we use for that).


Plan for future uses of your branding materials. What would the logo look like on event signage, t-shirts, website, social media, emails and other applications? Think about scale and intricacy in that context.



Focus on consistency across your branding materials, including fonts, colors, content, style, tone, etc. The more cohesive and consistent your brand is, the more recognizable you are to your community.
Branding Basics: Don't
Don't treat branding as an afterthought – give it sufficient time and budget.



Don't kill the budget with 25 people involved in the process. Select a range of people who represent different departments, have their finger on the pulse of the community, have some communications experience or expertise – and someone who can make decisions.



Don't create too many variations of your logo. Brand recognition is essential for your plan, and it might be hindered by many different images representing your brand.



Don't forget about your brand after the process is complete! Make sure to use your hashtag in every post, and have your logo on every image you post on social media.


Don't get too stuck on any one concept too early on or you might miss out on better options -- keep and open mind and several options.



Don't just look at greens and blues (obvious "environmental" colors). Find colors that stand out, but also make sure you're aligned with your local government style guide.



Don't get frustrated. There are a lot of moving parts, decisions and implications. KLA is happy to be your trusted advisor and help you every step of the way to create a brand that will give your brand impact.
In the next stage, we turn to Logo Tournament which is a fast, cost-effective, collaborative tool for creating a logo. You set a "prize" amount and provide your brand messaging along with some basic stylistic direction to designers from around the world who submit dozens of logos for you to consider. You provide feedback and work with the winning designer to finalize your logo.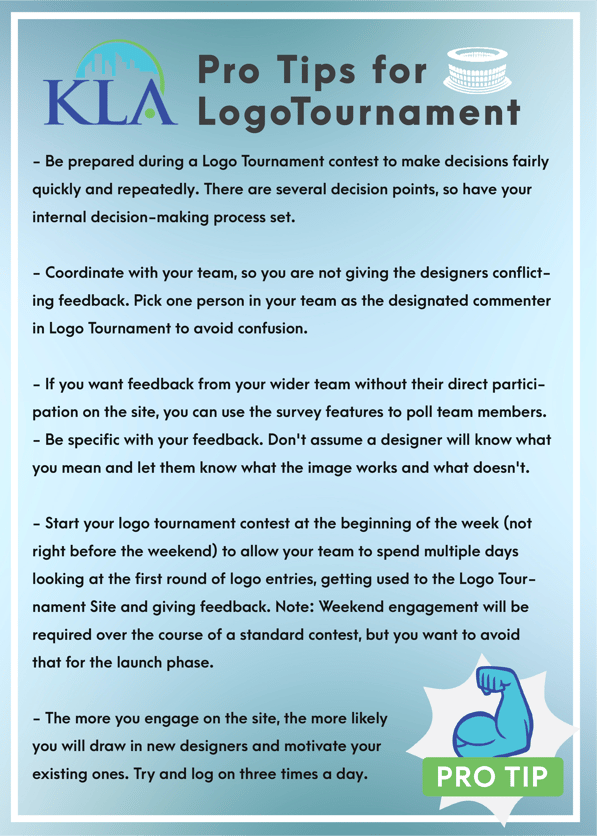 Below are some of the logos KLA has helped our clients create using Logo Tournament. Read more about KLA's approach to branding.