Part 1 of a 2-part series. Part 2 focuses on speakers and facilitators.
It's 2017, but far too often our attempts at community engagement are straight out of a 1997 (heck, 1987?) playbook. Your city has a new sustainability initiative – improved recycling, financing for residential solar, a participatory budget process– and you need the public to be aware of it and ideally proactively involved in said initiative. So you put out a press release and invite the community to an event at City Hall where they sit in the audience and listen to presentations.
Sound familiar? Whether it's lack of resources or vision, we have too much technology, too much social science and behavior research, and frankly too much at stake to keep calling those same plays.
I've recently been partnering with Emie Michaud Weinstock of Reveled Up, a branding and event marketing boutique, as I support KLA clients' community outreach efforts on their sustainability initiatives. Our discussions have been full of "a-ha" moments and truly replicable examples. So I had Emie join me recently on my SAS Talk with Kim podcast.
You can listen to our conversation here.
One and Done?
She cited the classic, old-school approach of planning a big "one off" event like an Earth Day fair. Sure, you might draw a crowd and have lots of kids smiling with fun games and adults walking away jazzed about a new program. But then what? Do they have to wait another year to hear from you? Did you get their contact info? Did they make a pledge for action? Did you find out is they learned anything?What if they want to know more? Did you get their opinions or feedback in any quantitative or qualitative way? Did you let them know what's coming next? Do you have a plan for what is happening next? If not, you have just wasted a great opportunity.
You need to prove to your community that you are actively interested in what they have to say – whether that's during a grand planning process or just your ongoing sustainability efforts. Here are some recommendations from Emie on how to accomplish that goal:
See and Be Seen, Hear and Be Heard
Emie told me that to the extent possible you should always have core stakeholders in the room to answer questions and really hear – not just read about it later – the feedback and the voices in your community. Maybe your representative has a formal speaking role, or maybe they are on the sidelines to show support and chime in as needed. There are cases where having a representative of the local government might stifle openness and free conversation and should be avoided. You need to understand the dynamic in your community to make that determination.
Get the Group Moving
When I first started working with Emie, we had a brainstorming session about how to help KLA's client Nashua, New Hampshire, engage their community with their new Livable Nashua online dashboard. She walked us through a variety of options that you could consider for your work:
Circuit Training where you assign tables and topics and groups (ideally with diverse representation so you've split up people who work together or know each other or all have the same background) are guided by facilitators and talk about the given topic for a set amount of time and then move to the next table and topic.
Those exercises have what Emie considers a key element of community engagement events: movement. It's people actually working at a workshop, not just sitting and listening. Too often we rely on a Q&A session at the end of an event to check off the "interactive" box.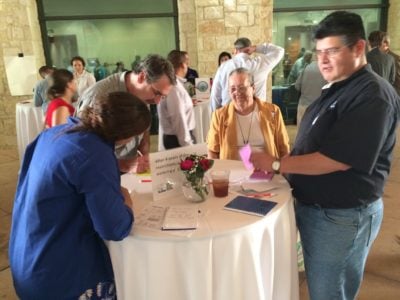 This reminded me of the first Sustainability Forum KLA designed and organized for the City of San Antonio as part of their SA Tomorrow Sustainability Plan project. The Forum was designed to allow participants to rotate through multiple activities as they were interested. From in-depth workshop style, to TedX style Talks, speed planning and tech zone exhibits, we offered something for everyone. This first Sustainability Forum was incredibly well received by the community and City leadership and has become an annual event.
Take a listen to Emie's SAS Talk with Kim episode.
Part 2 of our "How to Give Everyone a Voice at Your Community Events" series focuses on speakers and facilitators.
Click below for a handy Top 10 list.