"April showers bring May flowers" has always been the optimist's view of the rainy weather that often marks this month. But for many cities, these days "rain" is more like "deluge" that leads to flooding before flowers and it's not just confined to April.
"Last year, Climate Central, a nonprofit research and reporting organization, published an analysis of 65 years of rainfall records at more than 3,000 rain-gauge stations across the 48 contiguous states from 1950-2014.

The chief finding: 'Across most of the country, the heaviest downpours are happening more frequently, delivering a deluge in place of what would have been routine heavy rain,' with overall increases in such events in 40 of 48 states including Texas. Houston had a 167 percent increase in heavy downpours – defined as days when 'total precipitation exceeded the top 1 percent of all rain and snow days'."
"Houston recovering from yet another deadly flood" (U.S. News and World Report) and "Is Houston America's Flood Capital?" (The Weather Channel) are not exactly the headlines you want to see in the news for the nation's 4th largest city with more than 2 million people (90,000 of whom just arrived last year).
But that's going to be your reality when 25 percent of the land area of the city of Houston is in a 100-year floodplain (Source). During last week's storm more than 21,000 square miles of Southeast Texas was under a flash flood warning.
And it's a particularly scary reality when you consider that "half the built environment in the Houston of 2040 has yet to be built." (Source)
Beyond climate change causing more frequent and more severe storms, Houston can point fingers in a variety of directions:
Population boom and attendant urban sprawl

Building in floodplains

Paving massive areas without adequate green stormwater infrastructure like swales and rain gardens (It is estimated that between 1996-2011, the Houston area increased its paved areas by 25%. Source.)

Destroyed prairies and wetlands that serve as a sponge
As CBS News said "In addition to its location, Houston's 'gumbo' soft soil, fast-growing population and building boom that has turned empty pastures into housing developments all over the city's suburbs and exurbs make it vulnerable to high waters."
If you want to read more about Houston's flooding issues – the culprits and solutions -- I suggest checking out John Jacob of Galveston Baykeeper (and his piece "The fight for Texas' prairie wetlands") and Jim Blackburn (and this article "We can prevent future floods if we act now" which has a great history of how Houston got here).
We Know It's Going to Flood, So Now What?
So what's being done in Houston to address the flooding problem?
Local advocates have pushed for a variety of approaches, including: planting trees and native vegetation; providing more educate on the value of and need to protect watersheds; protecting the prairies and wetlands that act as sponges; appointing a task force on flooding causes and solutions; promoting cell phone apps that identify flooded intersections and impassable roads; and making information about hurricane evacuation zones more readily available and a standard real estate disclosure item.
Here is more on some of the proposed and active solutions. And there has been progress.
KLA is lucky to have team member Patrice "Pete" Parsons down in Houston working on climate and sustainability issues.
Pete tells me that "In November, 2012, The citizens of Houston passed a bond referendum for the Bayou Greenways Initiative. Over the next 10 years this initiative will add 4,000 acres of new and quality distributed green spaces that can also serve the function of flood control and stormwater quality enhancement. It will also complete 150 miles of continuous all-weather hike and bike trails through these green spaces - an amenity unparalleled in the nation. Developing corridors along the bayous with connected trails bring a smart and sustainable resolution to alleviate the City's green space and flooding challenges."
The City's Green Houston website has resources for the City's many environmental and sustainability initiatives.
Flooding: A Problem from Music City to Motor City
It would be tempting for communities elsewhere to write this off as "Houston's problem." But we've all watched the headlines from epic snowstorms and crippling drought and other deadly floods from all corners of our country (don't even get me started on crazy weather internationally).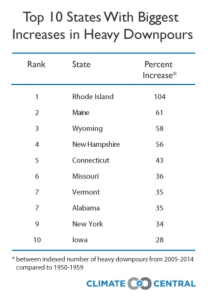 That Climate Central rain analysis reminds us that no one – not Music City, not Motor City – is immune: "In Nashville, for example, a 2010 record downpour dumped 13.6 inches of rain in just 2 days, causing an estimated $2 billion in damage. Eleven people were killed, 11,000 homes and businesses were damaged, and 2,700 businesses suffered closures. Intense rain in Detroit in August 2014 killed two, caused an estimated $1.1 billion of damage, and affected 118,000 homes and businesses."
Are we ready? A recent study by Climate Central called States at Risk says NO.
Clean Technica summarized it best: "Climate Central unveiled the first-ever national analysis of state-level preparedness for climate change-driven, weather-related threats.The report notes that across the USA, all five of the major threats—extreme heat, drought, wildfires, inland flooding, and coastal flooding—are increasing as world climate changes due to rapid human industrialization."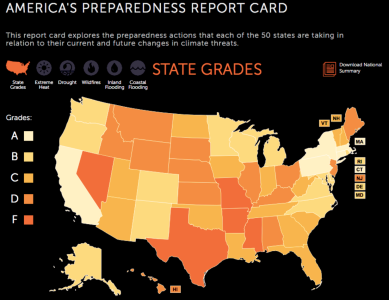 There are plenty of cities in the U.S. and globally already addressing flooding -- either proactively or as a response to events like those in Houston -- many of them like Boulder are associated with the 100 Resilient Cities program that we wrote about recently. They received more than 1000 applications for their 100-member network, 60% of which identified flooding as one of their "top shocks" they face. They recently brought together Chief Resilience Officers from cities from Norfolk, Virginia, to Surat, India, to share their experiences and expertise on water management, and the results of their gathering are available for everyone to learn from in the Rotterdam Exchange: Water Management & Multi-Benefit Solutions Handbook.
Sustainability Solutions
KLA recently completed work on the San Antonio Sustainability Plan. Through that project, we partnered with Adaptation International to develop a climate vulnerability assessment which included recommended solutions for the various impacts of climate change. Not surprisingly, flooding was one of the important impacts we assessed. Below are some examples of the solutions our team suggested for San Antonio which could apply to Houston and other cities.
Evaluate and adopt ordinances to create buffer zones around floodplains, riparian areas, and other natural priority areas.

Improve on‐site stormwater management practices and promote the use of Low Impact Development (LID) standards
Identify appropriate flood risk acceptance and develop supporting standards and guidelines. Three options include:


Informed Science Approach:

Use the best available climate science data to determine future flood conditions, and elevate structures above that level.

Freeboard Value Approach

: Elevate structures and facilities 2 feet for standard projects and 3 feet for critical projects above the 100‐year flood level.

500‐Year Elevation Approach

: Elevate structures to the 500‐year flood level
Houston's new mayor Sylvester Turner has been quoted after the recent flooding as saying "We certainly can't control the weather." But what I've found in more than a decade of working with local communities on sustainability solutions is that there is so much you CAN control with forward-thinking policies.
If you would like to donate to the victims of Houston's recent flooding, you can do so through the City of Houston Storm Recovery Fund.