My Journey -- and Jeep's -- to Keep the Same Driving Vibe with Very Different Results
By Danielle Civitillo, KLA's Director of Technology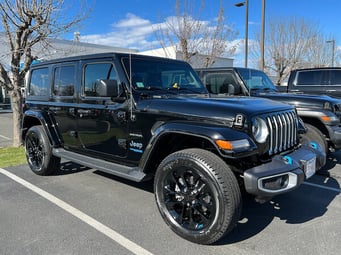 When you make lifestyle choices and purchases that are considered "green," it's often painted as a "sacrifice." My experience moving from a standard to a plug-in hybrid electric Jeep Wrangler tells a different story.
The process required patience -- it's a decision that even seasoned journalists who write about things like EVs for a living apparently struggle with -- but the end result is that I'm still driving my coveted Jeep, and now I'm also saving money at the pump and doing my part (not just Earth Day but every day!) to save the planet.

My starting point

My journey started in October 2021 while visiting a friend in California. How best to experience and blend in with California than to take an Electric Vehicle (EV) for a test drive? For almost my entire adult life, I've driven a Jeep Wrangler. I know, I know, I know. Not good gas mileage at all. If you're not already aware, Wrangler drivers are pretty cultish. We all wave at each other as we pass on the road. We put up with things like manual locks and roll-up windows so we can afford the base model. It's not a quiet vehicle at all on the highway. And if you have the top off and get caught in a rainstorm, there's no button to close the top quickly (unless you sprang for the $4,000 special top). I say all these things to convey that we drive Wranglers because we love them.
The idea of getting any other vehicle was tough but since we all have a role in ending climate change, I knew I had to look at other options.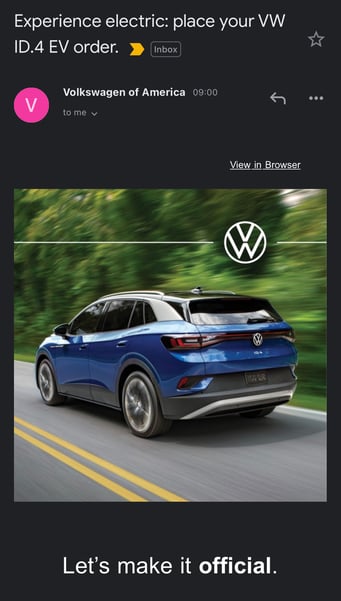 My friend said I should check out the Volkswagen Id.4 and thought it was a good-looking EV with lots of features that I would enjoy. And there is a 4wd version; a must if you were going to take me out of my Jeep as a New England resident. I took it on a quick test drive around sunny California and the next morning I was reserving the 4wd Id.4. The lead time was about 6-8 weeks. Perfect! My lease is up in May and it's October. I've given myself plenty of room for production delays… so I thought.

It's about the vehicle….and the charger
While waiting for my fun new EV to arrive, I started to consider my charging options. You have to research what charging levels are compatible with your vehicle, home and lifestyle. I ultimately ended up with a Level 1 charger (regular outlet). A Level 2 box is the most common for homes and is also known as EVSE. Level 3 or DC Fast Charging is impractical for home use. If you're in an area with easily accessible and plentiful charging stations, you can forgo one entirely.
VW offers 3 years of free, unlimited charging on the Electrify America network. I also realized that you can plug your EV into a regular outlet in your home. If you're like me, you might have figured there's no way the same outlet that charges your cell phone can charge your EV, but it can! It will take all night to get a full charge but it's an option. At first I was worried as a renter that I wouldn't be able to get an EV because I wouldn't have access to an at-home charging option, but I was wrong! My landlord enthusiastically allowed me to get an outlet installed near the driveway for this purpose.

Car shopping always needs a Plan B
Fast forward to February 2022. I started to realize that I would need to come up with a Plan B since my lease end date (May) was fast approaching and I wasn't getting any news from VW. Have you tried buying a vehicle in 2021 or 2022? It's kind of a mess right now. Thanks to the great semiconductor chip shortage of 2021, the supply of new cars is extremely low. For those of us who want to get into an EV when there are finally a lot of great new options to choose from, this couldn't have come at a worse time.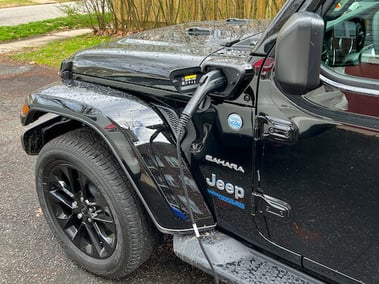 So for my Plan B, I started looking at the Jeep Wrangler 4xe. The 4xe is a plug-in hybrid electric vehicle (PHEV). I had known about this model but I was shying away from it because it only gets 20 miles to the charge. I figured a full EV would be a better way to go, which is always true. But around the same time that I realized you could plug your car into a regular outlet is when I realized that the PHEV would still be a good option for me! Even though the 4xe's electric capacity is low, I could still complete my in-town errands on electric and charge it overnight as needed to keep my gasoline usage low. And since I work from home now, my daily vehicle use is quite low. Only when I hop on the highway will I need to switch into the internal combustion engine (ICE) and use gasoline.

That was enough convincing for me to feel good about pursuing the Wrangler 4xe. Also, if you know anything about winter in New England, February is right about the time when we get a good blizzard and there's nothing like one of those to remind you the benefits of owning a Wrangler. I went to three different dealerships to get quotes to see if I could even afford the 4xe. Remember when I said we put up with limited features in the Jeeps to be able to afford the base model? Well, Jeep decided that the 4xe would only be available on the Sahara and Rubicon models. Both of these are their higher end trims starting at $53,795. The only reason the 4xe is in my price range is thanks to the Federal Plug-In Electric Drive Motor Vehicle Credit. This reduced the sale price by $7,500.
That's a whole other conversation I have to have with Jeep to understand why they decided that the PHEV would only be available at a premium. It sends the wrong message that EVs are a luxury, not a necessity.


Car shopping also requires patience

As if the supply issue wasn't bad enough, dealing with getting a quote was even worse. I was getting lease quotes for $450/month, $366/month, and one for $750/month! Through all this I had one dealer that was not taking me seriously and didn't offer to work with me on pricing. Another gave me a quote I liked to get me into the shop then turned around and offered me $6k less than fair trade-in value for my current Jeep. At this rate, it was looking like I couldn't afford the 4xe. But thanks to the perseverance of one dealer who actually wanted to work with me, I was seeing a path forward in my price range.

"Go Anywhere, Do Anything" embraces a green future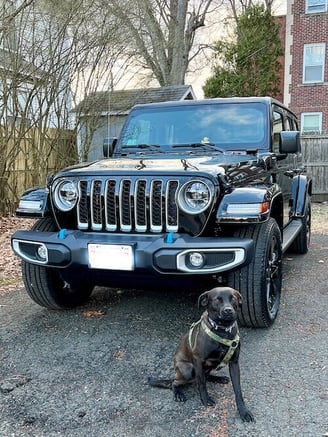 I'm now writing this blog as the owner of a brand new Jeep Wrangler 4xe. I cannot tell you how much I love this car and how many compliments I've gotten on it already. And the first time I plugged it in at home was so exciting! If you're reading this as a Wrangler owner, you should go look into these. Especially if you have been driving the Sport or Sport S and want to get into a Sahara. That tax credit makes the Sahara affordable to a new group of people who were previously stuck with the lower end trims. I feel so much better driving this car knowing that I'm contributing less to greenhouse gas (GHG) emissions. And I figure it's good for me to get used to this now because when my lease is up in 3.5 years, the fully-electric Jeep Wrangler should be available and you know I'll be upgrading to that one right away!

Yup, Jeep is charging forward with EVs. Last year the New York Times ran a piece on this new direction for the company for it's 80th anniversary: "The goal, according to Christian Meunier, the Jeep brand's chief executive, is ambitious: 'to make Jeep the greenest S.U.V. brand in the world….All Jeep models will carry an electrified option in the next few years, and will take green and 4x4 technology to the next level."


Oh and out of curiosity, I never canceled my ID.4 reservation. I wanted to know when it would have finally come in. It really wasn't a surprise that just 3 days after picking up my 4xe, I got an email from VW saying it was time to order my ID.4. Life is funny like that sometimes.
But now that I have a greener version of my cherished Wrangler, good luck getting me out of this car now!