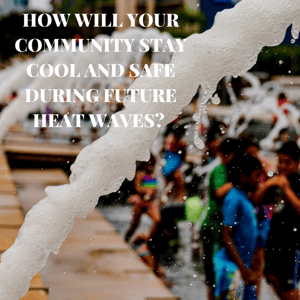 As many of us are gearing up for an extra long holiday weekend, it will be hard to leave "our work" at the office. I have been tracking the weather in my hometown of Boston as well as in a number of my client cities particularly in the Northeast, and it is hard to ignore the oppressive heat wave that is hitting the country (and, heck, the whole world) right now.
Meanwhile here in Massachusetts, about 70 cities and towns have just completed and sent in their final reports for a new state program called the Municipal Vulnerability Preparedness (MVP) program. Through the MVP process, cities and towns are engaging key stakeholders and the public to identify four key hazards, the assets that will be impacted by these hazards, and the solutions that can enhance their resilience to these hazards.
And right now one of those hazards is hard to escape: the heat.
While conversations and news coverage of climate change impacts often focus on sea level rise or flooding due to more intense storm events, it is the sustained temperature increases that is our biggest enemy at this moment in time.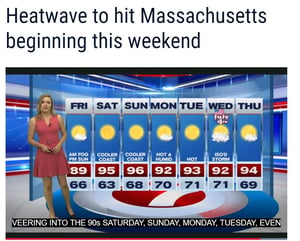 When we experience extreme heat over a course of multiple days, our health suffers. Heat waves have been the top cause of weather-related deaths in recent decades, and climate change will only increase the amount of heat-related illnesses, emergency room visits and deaths. And while we all balk at the record high temps, what's even more concerning is that the low temperatures -- when we expect to get some relief at night -- are rising even faster.
But it isn't just our bodies -- the electricity grid suffers, too. As people and businesses crank up the AC to escape the heat, it taxes the power supply.
Will Life Without AC Still Work?
Depending on where you live and how old your home is, air conditioning is not necessarily a given. The historic building stock that gives Massachusetts its quaint town centers and connects us to our country's birth does not often come with air conditioning. Growing up here, I did not have central A/C in my house until my husband and I bought our first condo in Medford in 2003 -- it was newly renovated and came with all the bells and whistles. Growing up, we would have one A/C window unit- always in my parent's room -- and if it was REALLY hot at night, we could sleep on their floor. Otherwise window fans would get us by. Think that sounds crazy? Check out this Boston Globe story about life without AC. But that was some time ago.
There are some spots like the Cape and Islands (Cape Cod, Martha's Vineyard, and Nantucket for you out of towners) and some coastal communities (like KLA client New Bedford) that, due to their coastal location and the cool winds off the ocean, still tend to stay quite cool. In fact, over the 30 years leading up to 2000, New Bedford averaged just 4 days over 90 degrees per year. That's about half of what Boston has averaged in that same time. But that could change dramatically.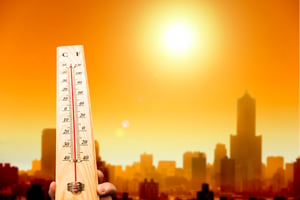 For New Bedford, with projections for days over 90 to increase by 4-21 more days by 2050, it is essential that we start thinking about how to prepare our communities for the heat.
Utilizing the Nature Conservancy's Community Resilience Building Framework, MVP provides MA communities tools and resources to start the conversation about being preparing for these changes. The state also provides funds to implement resilience projects.
We've worked with a number of MA communities to implement their MVP community workshops -- including Holyoke, New Bedford and Northampton. Three common themes:
Start in Your Neighborhood. Neighborhood scale resilience measures (we covered the Bayside Adapts neighborhood resilience effort in Portland, Maine, on a

SAS Talk with Kim with podcast

), including the creation of resilience hubs, will be critical. Most communities do not have the resources to support everyone during an extreme event. Whether because there are not enough shelters or emergency responders, the reality is that most of us that are not medically vulnerable (require electricity for medical devices) should shelter in place so the emergency responders can focus on those that cannot.


It's Time to Get Ready. We need more effective education and communication materials about what it means to be resilient -- things like a basic checklist of what a typical person/family might need to shelter in place for 3-5 days. Every community had in-depth discussions about equity and how we can ensure that we are working with those that are most vulnerable and recognizing that materials need to be in multiple languages and come through multiple media on a regular basis.

This is so important given that only "65% of American households have adequate plans and supplies for disasters." People are realizing that most of us are not even remotely prepared to be without power for 3 hours let alone three days.


Beat the Heat. A few other tips that have emerged as ways for individuals to take action when the mercury rises include:

Know where your cooling centers are located in the case you lose power and need to cool down, especially with babies or the elderly.

Participate in peak demand programs like Shave the Peak here in Massachusetts.

Turn up the AC setting at least 2 degrees during the 3-8pm window.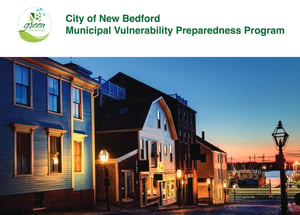 The MVP Program has just launched Round 2. KLA will be there to help our first round clients, who are now MVP certified communities, implement their action grants, and our second round clients get started on the process.
A Hotter Future
I believe we have made it even more complicated over the last 15 years for people to understand what climate change really is, how it impacts us as individuals and collectively as a species, and why we need to take action now to address it. As a Scientist, I appreciate all the new data and research that is telling us that this is all happening faster than we hoped. As an Individual, I do not need to know every single detail down to the 0.03% chance.
Here's what we know -- and can actually feel: many of us live in communities where there are already more days of more intense heat. Often (including this week) those hot stretches are followed by thunderstorms and the threat of flash floods. And it's projected to get much worse. So as we struggle to stay cool amidst this week's heat wave, let's use the opportunity here in MA and beyond to get our homes and communities prepared for a hotter tomorrow.
If you are a Massachusetts MVP community looking for support to meet your community workshop requirements, contact KLA. We have a special offer available through mid-August. Learn more.