Who is Behind the KLA Curtain?
On any given day you can find members of our growing KLA Team:
Organizing and attending workshops and events for our clients, their stakeholders and community members

Coordinating with local partner organizations in client cities as we develop sustainability, resilience and climate action plans

Deep in data analysis for GHG inventories

Mapping with GIS

Talking with technical partners as we refine our Community Dashboard

Walking clients through a messaging and branding process as they kick off new initiatives

Designing and conducting surveys to gauge community awareness and opinion on behalf of our clients

Drafting social media posts, blog posts and newsletter articles for our clients

Speaking at and attending conferences

Recording podcasts with leading local government and sustainability voices for our SAS Talk with Kim podcast (Sustainability Action Series)

Researching the latest trends and best practices when it comes to sustainability, livability, equity, storytelling, community engagement, smart cities and more
These are tasks we all juggle. And for a growing slate of clients. But with a team this expansive and collaborative, we can effectively juggle without dropping any balls.
So who is this team? Lately we've been growing by leaps and bounds, so I wanted to take the opportunity to introduce us to you. You can also do the Cliffs Notes version on our profile page.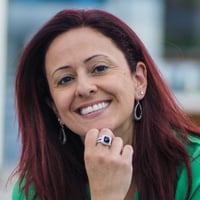 Kim Lundgren. CEO.
What do I do? As the "Kim Lundgren" in "Kim Lundgren Associates," I run the show.
Where can you find me? On site with clients, at a bazillion conferences, and working well past midnight. Also on Twitter. And LinkedIn.
Fun facts:
Well, what don't you already know about me?
I was elected class comedian of my high school class- I still like to keep lots of witty humor (and sarcasm) in the workplace!

I often joke that my crazy energy and passion stems from the fact that I am an Italian Swede with a Scorpio and middle child kicker

I love to travel - my first international trip was a study abroad to Australia and my very first time snorkelling was at the Great Barrier Reef… yeah, everything after that has been pretty unimpressive

Every position I have held since 2001, I was the first to hold it

My motto is work hard, play harder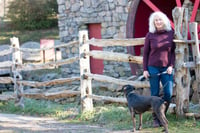 Jen Dudgeon. Client Services Manager.
What do I do? Manage projects with all of our clients, from Nashua to Indianapolis to Encinitas.
Where can you find me? At crossfit, playing the fiddle, in front of my computer tweaking the Community Dashboard and chatting with clients.
Fun facts:
I got bitten by the travel bug when I was young as I always wanted to see what things were like somewhere else (the grass is always greener…am I right?!?!). I started to get the opportunity to travel with my first job out of college and I was excited! My first trip was to Nice, France! Jackpot baby! I loved every second of that excursion and my passion for experiencing new places bloomed, so much in fact that I ended up living in 12 different places between the ages of 24 and 34. Not the cheapest way to live, but I sure did enjoy it. During that time, I lived in three countries and had the privilege of working as a contractor for each government. When I came back to the USA it was time to settle down as I was married with kids. To help keep me in one place I took up gardening and now have a small farm growing in my yard. I also found solace in the CrossFit cult and recently took up the fiddle. I'm always game for something new and something fun!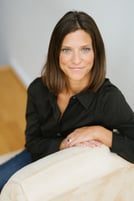 Annie Suttle. Director of Marketing and Communications.
What do I do? Write. Social media posts, emails, blogs, and thank you notes...because, the South.
Where can you find me? Not in the Northeast with the rest of the team but instead down in Charlottesville, VA, checking social media often because "it's for work."
Fun facts:
My first Letter to the Editor was published when I was in 7th grade. It was about the need for recycling bins on the beach in my hometown of Virginia Beach. The bins were added many years later and are still there today (many, many years later).

After college I backpacked through South America, including hiking the Inca Trail to Machu Picchu. We reached our goal of making it from the Equator to Tierra del Fuego, and we also fit in Patagonia and Iquazu Falls. We tried to find the cheapest campgrounds and hostels possible (many of which were $2/night), had every possession in a single backpack and this was pre-cell phones. Not exactly how I travel these days.

I have moved cross-country 4 times. The last time was with two kids, and I really hope we're staying put now.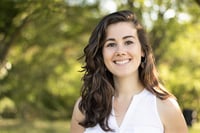 Amanda Kohn. Sustainability Specialist.
What do I do? Whatever needs to be done! But some of my favorites include being the online engagement tool go-to, researching and then designing data visuals, and speaking with clients.
Where can you find me? Buzzing on coffee and sunshine while pumping out customized solutions.
Fun Facts:
My favorite element is water. I'm fascinated by it in so many ways. I try to weave it into my life wherever I can, from making local water systems more sustainable to calling my little slice of heaven on Earth the Boundary Waters Canoe Area in northern Minnesota. If it's about water I'm interested!

I grew up 10 miles from the nearest town in Iowa. Being a lover of maps, I'm always surprised when people get Iowa confused with Ohio or Idaho.

I'm inspired by nature's perseverance. I always stop to admire trees, flowers, and plants that have found a way to thrive in the most unexpected places. One of my favorite natural resiliency moments was down my street in Medford, MA. One

of my favorite flowers, a violet, was wildly growing out of the middle of a brick wall.
I was recently surprised with one of the largest gifts I've ever received: a piano. I learned to play years ago and now I'm enjoy (re)learning it again in my spare time. I also enjoy being in the outdoors. Some of my favorite activities include stargazing and playing beach volleyball.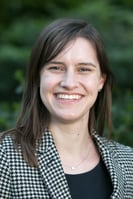 Kara Runsten. Community Engagement Specialist.
What do I do? Manage community engagement, dabble in communications, and support all the rest of our work for many of our clients.
Where can you find me? With Amanda and the hip co-working crowd in Cambridge, MA.
Fun facts:
My passion for helping communities adapt to climate change stemmed from a work trip to Barrow, Alaska (the northernmost city in the U.S.!). Community leaders described how the ocean, historically frozen for most of the year, is soon going to be open water for a lot of it. They listed all the challenges this brings, like an increased number of starving polar bears in the town and changes to their subsistence lifestyle. Their stories motivate me every day.

I've been on the move my entire life. I've lived in 5 states and spent 3 years abroad in England. Moving around a lot has made me more resilient to new situations. After attending 5 different elementary schools, I was a pro at making new friends. Moving also spurred a love of travel-- I've been to 6 out of the 7 continents and want to make it to Antarctica soon.

Writing has been a passion of mine for a long time. I begged my parents to send me to writing camp as a teenager, was Editor-In-Chief of my high school newspaper, pursued a creative writing minor in college, and wrote a long-form piece on the rails-to-trails movement that was published in a magazine post-grad.
Even this solid team of five can't accomplish all we've set out to do on our quest for equitable, healthy, thriving communities and a sustainable future. We are also so fortunate to have the support of amazing interns and colleagues who work alongside us as part of our extended family.
Check out our Executive Assistant Colleen MacDonald, Social Media and Communications Intern Julia Masters, and Community Engagement Interns Claire McCoy and Stella Emery Santana in their profiles.
That's the KLA Team.
Of course, the best way to get to know us is to work with us. So set up a time for a free, casual chat with us about your community's needs and how our team can help.