At a time when the integrity of many democratic institutions -- from voting rights to

the free press -- is under attack, Participatory Budgeting (PB) is emerging as an effective, inclusive tool for local governments to forge, maintain or mend meaningful, engaging relationships with their citizens.
Jennifer Godzeno, Deputy Director at the Participatory Budgeting Project, joined us for an episode of our SAS Talk with Kim podcast series to talk about the basics of PB.
PB is an open, democratic process through which community members directly decide how to spend part of a public budget. For cities, counties and local government departments, that often translates into funding for bike lanes, community gardens, transit upgrades (like bus station shelters or benches), playground equipment, street lights, composting facilities, community gardens (pictured here funded by PB in Vallejo, CA), murals, crosswalks and other street and sidewalk safety features, and playground and pool equipment.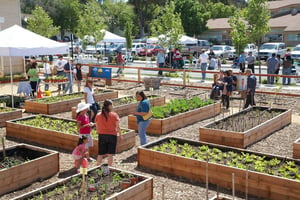 Started in Puerto Alegre, Brazil, in 1989 and introduced in the US in Chicago two decades later, PB is gaining steam because of the myriad of challenges it addresses and benefits it offers communities large and small, including:
Building community leaders

Creating a bottom-up conversation that illuminates a community's needs and makes local leaders more responsive

Expanding civic engagement

Enhancing how informed the public is

Fostering effective and fair leadership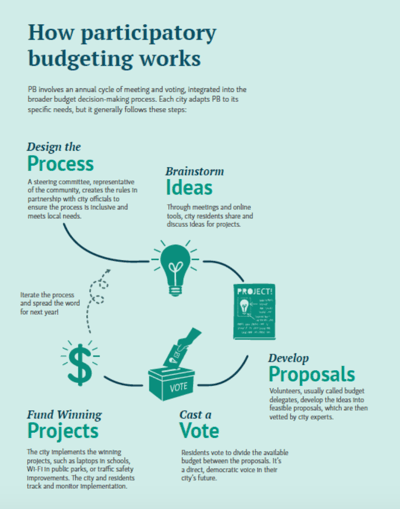 How does it accomplish all of that? The Participatory Budgeting Project breaks the process down into fives stages:
Design:

A steering committee, representative of the community, creates the rules in partnership with government officials to ensure the process is inclusive and meets local needs.

Brainstorm:

Through meetings and online tools, residents share and discuss ideas for projects.

Develop:

Volunteers, usually called budget delegates, develop the ideas into feasible proposals, which are then vetted by agency staff.

Vote:

Residents vote to determine how the available budget will be spent to fund proposals. It's a direct, democratic voice in their community's future.

Fund:

Winning projects are implemented, such as laptops in schools, Wi-Fi in public parks, or traffic safety improvements. The government and residents track and monitor implementation.
If you're ready to take the next step and learn more about how Participatory Budgeting could work for you, start with our podcast. Then you can download the Participatory Budgeting Project's PB Scoping toolkit (there is also one specific to schools).