KLA's Approach to Sustainability Values, Equitable Community Engagement, and Scalable Solutions Honored by APA's Sustainable Communities Division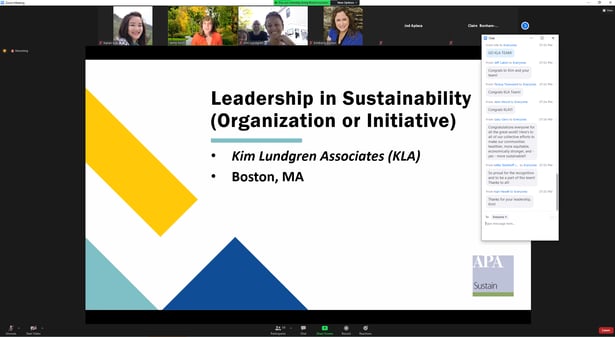 Big, awesome news to round out the week: tonight I accepted the American Planning Association's (APA) Leadership in Sustainability Award of Excellence for an Organization or Initiative, the 8th annual awards presented by APA's Sustainable Communities Division. The Leadership in Sustainability Award of Excellence honors those whose vision, leadership, and commitment have been fundamental to the evolution of sustainability planning, and have helped improve awareness of sustainability. Congrats to our fellow award winners -- you can watch short videos of each to see some truly innovative sustainability planning practices!
We are so proud of this award and of all that we've accomplished on our quest to save the planet one community at a time. This award reflects the innovative approach our team brings to each project, our deep commitment to sustainability and the incredible partnerships we have formed with local governments across the country. Our clients are the true leaders, and we are proud to resource them and, along the way, support other cities, towns and counties pursuing sustainability and climate action solutions.
KLA's signature services are the Community Dashboard platform, utilized by more than a dozen communities to showcase and track progress on sustainability goals, and climate and sustainability action plans. In the last two years alone, KLA has completed or is in the process of completing over a dozen climate action plans for local governments large and small across the country, including: county operations plans like All-In Clark County (NV); community-facing plans like Resilient Together with Beverly and Salem (MA); and agricultural resilience plans like Harvard's Climate Initiative and Harvard Grown (MA).
KLA churns out regular resources, best practices, headlines, webinars and more: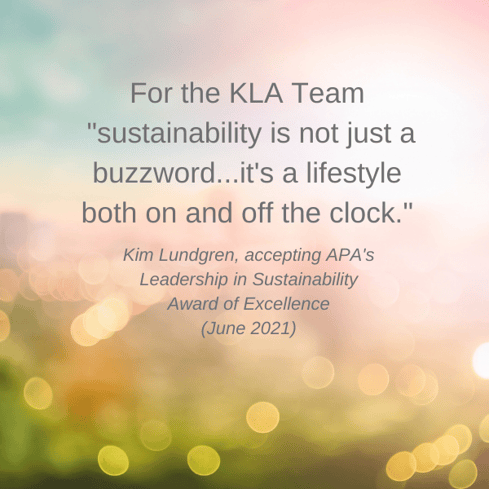 We've pulled some excerpts from our awards nomination that we feel capture why KLA took home the Leadership in Sustainability Award of Excellence this year:
KLA recognizes that a planning process should be leveraged as a unique opportunity to educate, engage and empower all members of the community – not just an exercise in checking boxes. KLA has given local governments of all shapes and sizes access to best practices and tools previously accessible only to big companies and the largest cities, including:
A plan needs a brand – one that doesn't require a fancy marketing agency or year-long process. KLA has led more than a dozen clients through a branding process (integrated into the overall planning process) that results in consistent, powerful visuals and messaging that are applied from start to finish.

When both video and text are available, 72% of people would rather watch a video to learn about a new product or service. Local governments often balk at producing videos, fearing a tedious process and sticker shock. KLA has helped clients integrate videos into nine planning processes, to launch the planning process itself and to release the final plan. These can be viewed on the KLA Vimeo channel.

Importantly, equity is not treated as a buzzword or afterthought in KLA's work. As outlined in our free resource

"Integrating Equitable Engagement Into Your RFP Process", the KLA approach sets planners and their projects up for success by considering equity from the very beginning. This includes paying

local equity partners and ambassadors and bringing community-based organizations onto the consultant team.
KLA has been an innovator in how local governments develop and implement sustainability plans, including in the following four areas:
Virtual Engagement.

With COVID-19, KLA worked quickly to transition in-person engagement online with fresh tools like MindMixer, an interactive virtual town hall platform.

F

eatures such as

short polls and quizzes promote community chatter. Add in incentives like coffee with the mayor, and the community is excited to share their grand ideas for how they can improve their community.

Guiding Principles and Evaluation Frameworks.

To ensure all goals and actions included in its plans are reflective of its client's values and priorities, KLA works with its clients to develop a set of guiding principles, which then set the foundation for an evaluation framework. This framework is used as a lens to evaluate actions for inclusion in the plan and can also be used as a decision-making tool for future projects.

Actionable Plans.

KLA equips clients to quickly implement their plan after adoption. Blueprints developed for priority actions

identify champions, timelines, funding resources, key partners, metrics, and other components essential to make these actions into a reality.

Too many good plans end up on a shelf or buried on a municipal webpage. The KLA Dashboard platform gives local governments a dedicated platform to showcase their plan in an interactive format, track and share progress, and guide residents in taking climate action.
KLA gets communities talking. Skilled in facilitation methods, KLA engages those who are bought-in AND those who have concerns and navigates conversations to uncover root issues and address them. By considering all perspectives, the community can develop a truly comprehensive and actionable plan. KLA's equitable engagement approach includes:
Inclusive, equitable, empowering process.

KLA understands a community's strength comes from its diversity and the inclusion of all community members. This starts with hiring paid Street Teams

partnering with community-based organizations who have established trusted relationships on the ground (like The Kheprw Institute for Thrive Indianapolis and Beverly Main Streets, Harborlight Community Partners and Beverly Bootstraps for Resilient Together) and can represent and reach the voices you need to hear.

Building local capacity.

KLA empowers clients by actively involving them in climate planning initiatives, providing toolkits and trainings, and solidifying partnerships so that clients benefit from, but are not dependent on, KLA's expertise.

Spark and maintain ongoing conversations.

KLA works

with the client and key stakeholders to develop a community engagement strategy that is focused on creating and enhancing opportunities for ongoing climate conversations with all members of the community – especially those with conflicting views or who are part of traditionally marginalized groups -- from planning to implementation and beyond.
About KLA
KLA is a small, woman-owned, Boston-based benefit corporation that partners with local governments to build the sustainable community they envision. The KLA Team does this by delivering affordable tools and services to assess, plan, implement, evaluate and communicate climate and sustainability goals and programs. KLA excels in the local climate and sustainability arena because that's all they do. Led by an early municipal sustainability pioneer, the KLA Team delivers excellence through agile project management, continuous innovation, and high caliber performance. KLA is driven by the core values of: Innovation, Equity, Leadership, Authenticity and Impact.