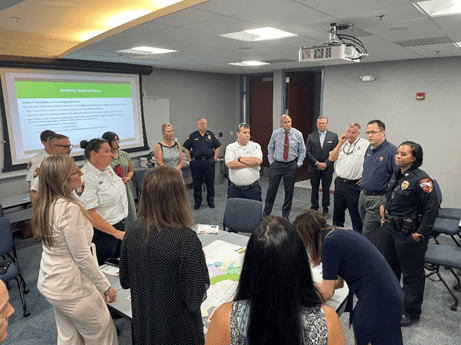 Stakeholder meeting between Cary, NC sustainability staff and first responders
September is National Preparedness Month, and as the world comes out of a scorching summer with seemingly never-ending climate hazards (think wildfire smoke on the East coast, freak flooding and hail events in the Southwest, and record temperatures across the country), integrating emergency preparedness into climate action planning is more important than ever. Summer 2023 was Earth's hottest on record, with over 97% of the American population experiencing at least one summer day notably influenced by climate change.
For many municipalities, it might not be standard operating procedures for a sustainability team to actively collaborate with first responders and public safety officials during the climate action planning process – but it absolutely should be. When it comes to best preparing your community for the effects of climate change, cross-departmental collaboration isn't a tick-the-box or nice-to-have. It's absolutely essential.
Preparedness and Climate Planning: Two Sides of the Same Coin
Last week on The Weather Channel's Pattrn, our CEO Kim Lundgren explained that a critical part of preparedness is understanding what communities are currently underserved with respect to resources and knowledge on emergency preparedness. For example, elderly adults, who are already more physically vulnerable to hazards like extreme heat, are put at higher risk due to lack of community connections or knowledge about preparedness programming.
"Your government needs to be all-in on preparedness – from sustainability and environmental officers to first responders and public safety officials"
In the clip, Kim discusses the necessity of baking preparedness mechanisms directly into local climate action plans. While the creation of cooling centers or disaster shelters is an important first step, it's equally important to communicate what these programs are (and how they can be used) to more vulnerable neighbors in your community. Community connection through neighborhood networks or "block captain" programs establish secure methods of checking in on neighbors, family, and friends during extreme weather events. The importance of preparedness and communication means that every element of your government needs to be all-in on preparedness – from sustainability and environmental staffers to first responders and public safety officials.
KLA Talks Seniors and Heat Safety on Pattrn
Preparedness in Action: Cross-Departmental Public Safety Collaboration in Cary, NC
At KLA, we know that the urgency of local climate action needs to meet the urgency of the climate crisis. Our planning processes with local governments reflect that need, as we bring in stakeholders from across the board – from higher-risk community members to first responders to utilities providers – to help prioritize strategies that will best protect residents from climate hazards and extreme weather events.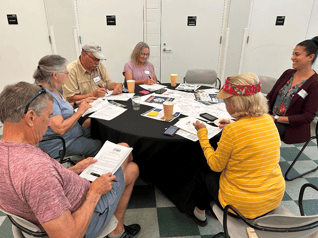 Recently, we worked with our partners in Cary, NC to conduct key stakeholder meetings to address climate vulnerabilities in their upcoming Count Me in, Cary! (CMiC!) Climate action strategy. Members of the Cary and KLA teams facilitated discussions with people who will either be assisting in implementing the plan, or those who would be most affected by the plan.
A key meeting in this process was an in-person public safety workshop with Cary's Police and Fire Departments, which brought police officers and firefighters together with sustainability staffers to inform public safety measures and preparedness priorities. Throughout the workshop, Cary Police and Fire officers helped establish resilience priorities when it comes to public safety – noting areas of climate hazard vulnerabilities, like flood-prone neighborhoods and areas at risk of falling trees during storms. This cross-departmental collaboration is critical to ensuring that the goals, strategies, and actions in the Count Me In, Cary! final strategy are reflective of the needs of the community.
Why is this de-siloing so critical to effective local climate action? We asked Alyssa Campo, Cary's Environmental Manager, along with key officials in the Cary Fire and Police Departments, how this cross-departmental collaboration has been a vital part in integrating climate action and resilience into city operations Here's what they had to say:
Alyssa Campo, Environmental Manager – Town of Cary, NC:
The CMiC! Process is benefitting because of the cross-departmental collaboration and input from all backgrounds and experiences. So many sustainability programs seem to operate as a division of one or two people trying to convince other departments to be more environmentally mindful, but with Cary, the emphasis is placed on involving other departments in almost all stages of the planning process for a more inclusive and holistic understanding of challenges and opportunities that we all face in our lives.
In particular, engaging our emergency responders was eye-opening. While most associate climate change with nature and energy concerns, our responders were already addressing critical issues like safe transport, healthcare access, and community well-being. They just hadn't linked these efforts to climate change until we had the opportunity to come together in that stakeholder meeting.
Joining that meeting, I felt proud of Cary. It was heartening to see how our first responders are deeply integrated with the community, aligning their actions with the requests of other climate action groups. This experience leaves me feeling safer and more hopeful, knowing that these vital issues are being addressed and planned for.
David Ranes, Assistant Fire Chief – Town of Cary, NC:
" I appreciate the opportunity to be a part of the Climate Action group for public safety. It was good to understand not only what we are doing in the Fire Department, but to also see what's going on with our public safety partners in the Police Department and the Communication Center.
The proactive measures that public safety is taking to be good stewards of the environment and to ensure our service levels remain the best is what makes Cary great and the leader for all other local governments to compare themselves to."
Travis Knick, Police Captain – Community Services and Project PHOENIX, Town of Cary, NC:
"Townwide training involving all departments is critical in developing strategies that prevent or reduce any climatological impacts before they occur, as well as expediting recovery and minimizing the impact after they occur."
--
In Cary, the collaboration between different departments has not only strengthened their climate action strategy, but has also made their community more resilient and better prepared to face the challenges of a changing climate as a whole. It's a shining example of how local governments can take proactive steps to ensure their communities thrive, even in the face of the urgent climate crisis.
This work in Cary, and work like it across the country, highlights the critical importance of fully incorporating preparedness mechanisms into local climate action plans. By fostering cross-departmental collaboration and embracing a holistic approach, local governments can build resilient communities capable of weathering the storms of climate change.