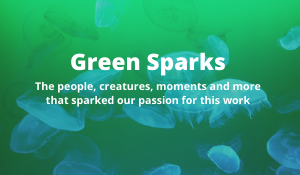 This whole planet-saving thing is our job...and our passion
This Earth Day at KLA, we're not just celebrating a day-long commitment to protecting our planet, but a life-long one.
KLA is unique. Every single one of our team members is in this line of work because we truly care. We're a group of passionate people whose hearts are in the act of saving the planet — who better to help our local governments address climate change?
To inspire you and help you understand why we do the work that we do, we wanted to share some of our team members' stories. We asked the KLA team to share their "green spark" — the thing that drove them to pursue a career in sustainability, whether it be a moment, place, idea or event.
Kim, CEO
:
"You can track my two decades-long sustainability career back to a Scholastic News article about baby seals being clubbed in the Arctic, which prompted me to map out a plan to partner with polar bears to attack the poachers. Flash forward to today, and I am still driven by a passion to protect the planet for all living species by partnering with local governments to plan for and take action on climate change."